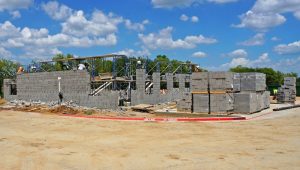 Construction on what will soon be Flower Mound's temporary Fire Station 6, and the future Western Operations & Maintenance facility, is nearing completion.
The $771,398 facility is adjacent to the Canyon Falls master-planned community on Stonecrest Road and located west of the railroad tracks along Hwy 377.
The placement of the facility will decrease emergency response times, in addition to improving Insurance Service Office (ISO) ratings for fire protection, town officials said.
Temporary Station 6 will be equipped with a paramedic engine and staffed with three firefighter/paramedics. The station will serve 18.3 square-miles and approximately 5,000 residents, along with the new Argyle Middle School and Denton County Southwest Courthouse.
Under contract, Temporary Fire Station 6 will also provide emergency services to adjacent areas of Denton County, outside of Flower Mound.
Construction is expected to be complete in late August, and temporary Station 6 will be operational in September.
The town continues to search for adequate land suitable to become the permanent home for Station 6, at which time the building will become solely a Public Works facility.