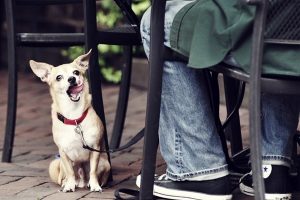 Once upon a time, Man's Best Friend was persona non-grata at local eating establishments. But, as the old saying goes, every dog has its day.
Restaurants in Flower Mound now have the ability to apply for a permit, allowing restaurant-goers to bring their dogs to dine with them on the patio, thanks to Town Council members' approval of a special variance earlier this year.
Currently, four Flower Mound restaurants have been granted permits allowing for dog-friendly patios:
Fuzzy's Taco Shop, 5810 Long Prairie Road, Suite 100
Paradise Bistro & Coffee Co., 2451 Lakeside Parkway, Suite 100
Piranha Killer Sushi, 5801 Long Prairie Road, Suite 870
Twelve Stones Restaurant, 1221 Flower Mound Road, Suite 100
Pet owners visiting these establishments must remember to enter through a patio gate, as pets are not allowed inside the restaurant. Also, pets are not allowed on chairs or tables, are not allowed to be fed by the owner while using the patio, and owners must remain in control of the pet at all times.
Interested restaurant owners or managers may apply for a special permit via the Town website at www.flower-mound.com/dogfriendlypatios. In addition to the new permit, the Town also established additional regulations to address potential health hazards and/or nuisances, which are also listed on the webpage.
For more information, call Flower Mound Environmental Services at 972.874.6340.