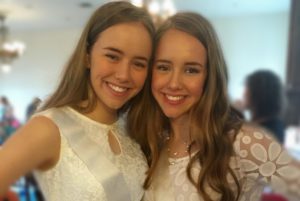 Katie and Carly Haynes from Argyle High School were elected as state officers at the Children of the Republic of Texas (CRT) 2016 Annual Convention in Castroville, Tex.
Katie was elected as the new treasurer to the State CRT Board of Managers and Carly was elected as Recording General Secretary.
Katie and Carly both served as pages at the 2016 State convention as well as singing the national anthem and "Texas Oh Texas" to open the meeting.
Their older sister, Madelyn Haynes, received $2,000 in scholarships from CRT including the Aaron Lee Evan Noack Scholarship as well the CRT Leadership Scholarship and will be attending University of Arkansas in the fall.
The girls are members of the James Bowie CRT Chapter which won four star award for the seventh consecutive year, as well as 64 Project Award certificates. There are 73 CRT Chapters across the state.