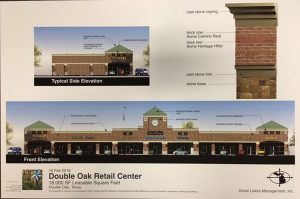 At its May 2 meeting, the Double Oak Town Council approved a new retail center on FM 407 near Chinn Chapel Road with a 3-2 vote.
"The center had received a unanimous vote from the P&Z Commissioners, but it took the council more time," said Mayor Mike Donnelly. "During previous council meetings, some of the people from Crossroads Bible Church had voiced concern. They preferred having a mix of buildings, rather than seeing one large roof on an 18,000-square-foot building."
Developer Robert (Bob) Suarez is a resident, as well as the president of Great Lakes Development, Inc. He has more than merely a business interest in the new retail center.
"We are very excited to come to Double Oak with a family-owned and operated development," he said. "This will be a family trust that we will build and will take care of it over the next 20 years. This is for our family."
The Commercial Construction Group, LLC, of Rockwall was involved in the design of the new retail center, which has a projected build cost of approximately $1,981,000. A construction group has not yet been named; nor has a date for groundbreaking.
"We're looking forward to see the new retail center come in to the community," said Donnelly.