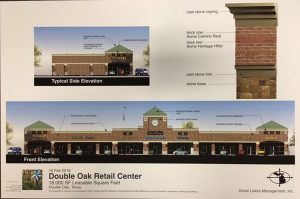 More shops and restaurants may be coming to the FM 407 corridor near the Flower Mound/Double Oak border.
The Double Oak Planning & Zoning Commission held a public hearing on Thursday and voted 7-0 to recommend approval of a site plan and a specific use permit for a 18,000-square-foot, multi-tenant strip center on FM 407 near Chinn Chapel Road across from the soccer fields.
The project now needs the blessing of the Double Oak Town Council.
Council will hold a public hearing on the proposed retail center on Monday, March 7, at 7 p.m. at Town Hall, and is expected to vote on the project at their March 21st meeting.