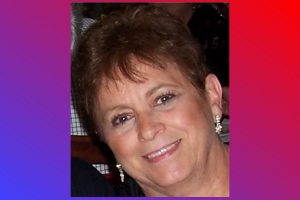 Rosalie Anne Lozano, 75, passed away on  February 24, 2016.  Until recently, she was a resident of Robson Ranch in Denton.
Rosalie is survived by her husband of 57 years, Anthony Lozano.
She was a loving Mother to her sons Mark and Michael Lozano, and her daughter Lisa Hutchings. Beloved Grandmother to Mark Lozano, Jr., Audra Kruder, James Laurain III and, Lucas Lozano. Beloved Great Grandmother to Alyssa, Aubrey, and Angelica Kruder. As well as James and Ellie Laurain.
Rosalie joins those loved ones whom have passed before her; her father Orazio (John) and her mother Loretta (Fusco) Saracino and, sister Delores Tosques; to prepare the way for those whom she loved so dearly.
She touched so many lives with a vibrancy, humor, and joy; once appreciated she was always remembered!  Friends have always been an important aspect of her life; she found great pleasure in the smiles and laughter, around her.
She was always active in both her church and in community activity groups and, could be counted on to participate whenever the opportunity arose.
The emptiness felt by her loss is filled by the memories of how she lived her life, with us.
Memorial services are scheduled to be held at St. Mark's Roman Catholic Church, 6500 Crawford Rd. in Argyle (east of I-35W and west of 377) on Thursday, March 3, at 11 a.m.
In lieu of flowers, donations can be made to St. Jude Children's Research Hospital, at the Rosalie Lozano Fund, in the name and memory of Rosalie.