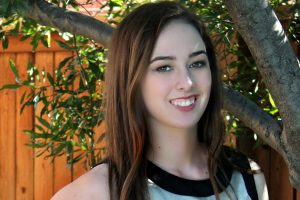 Saylor Snowden of Lantana, a Guyer High School sophomore, was elected on January 30th as the Lieutenant Governor for the Division 8 Texas-Oklahoma District of Key Club International, a Kiwanis International Service Leadership Program for high school students for the 2016-2017 academic year.
Saylor is only the second Guyer High School student to ever be elected to a District Office position within the Key Club International.
Saylor will be responsible for supervising Key Clubs at nine high schools in North Texas/Oklahoma including Liberty Christian, Denton, Durant, Gainesville, Sherman, Ryan, Guyer, Decatur and Krum.
Saylor's term begins in April and continues to April 2017. Her duties will include visiting clubs, holding monthly President's Council meetings with the  District's Club Officers for communication and training, attending District Board meetings, serving on District committees, encouraging service through planning and implementing a Divisional project, publishing monthly newsletters, and serving as a liaison between the local clubs and the district.
"I am very excited and honored to be elected to the position but more importantly I am so thankful to be joining a group that puts community service first and focuses on making the world a better place." said Snowden.
This role will be an extension of the community service that Saylor has been engaged in for several years.  As a published author, founder and President of "I Don't Stand Alone", a book series, website and blog that Saylor has developed to help put an end to bullying, she will continue using each of these avenues addressing the bullying behavior at the elementary and middle school years before it has time to become a learned behavior.
Saylor's thought is to approach bullying in a different way by treating the cause of bullying rather than the symptoms, when it is too late and the damage has been done.
As a member of the District Board, Saylor will be attending the District Convention in April, a student planned and led event attended by thousands of students from across Texas and Oklahoma, as well as, several other scheduled events.
Key Club International, a service leadership program of Kiwanis International, is the oldest and largest service program for high school students, and gives its members opportunities to provide service, build character and develop leadership skills. Key Club attributes its success to the fact that it is a student-led organization that teaches leadership through serving others. For more information, visit www.keyclub.org or call 1-800-549-2647.