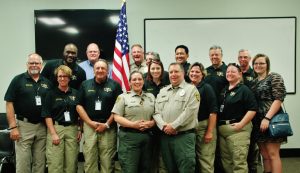 The first class of Volunteers in Police Service (VIPS) graduated from a nine week training program Tuesday night at the Denton County Sheriff's Office.
The Sheriff's Department's VIPS program, initiated in 2015, is led by Deputies Penny Campbell and Charley Smith. The training involved instruction in all areas of operations presented by trainers who are experts in each area.
VIPS is a part of a national organization dedicated to helping police and volunteers work directly with law enforcement to help bring crime prevention awareness and information to citizens.
"We could not be more pleased or prouder of this group of people who have set the bar high for future VIPS classes, and the talents they bring to our organization.  We look forward to having them working with us for a long time to come," said Sheriff Will Travis.
Read more about the VIPS program here.