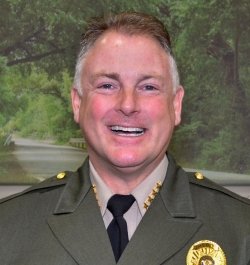 by Will Travis
Denton County Sheriff
Here at the Denton County Sheriff's Office, we strive to be a community-based organization at all times, and I would like to invite you to become a part of this endeavor.
We're starting a new program to increase our ability to get involved in the community. The Volunteers in Police Services Program is committed to developing a spirit of cooperation and partnership within the community to enhance the DCSO's ability to serve citizens of Denton County.
In addition, our VIPS program is designed to give our volunteers a sense of personal satisfaction as they perform meaningful and important roles that directly affect our community. The Volunteers in Police Service program, or VIPS, is part of a national Volunteer in Police Service Organization. The goal of the program is to give the volunteers a chance to give back to their community.
Community volunteers have a direct effect on the community by helping the sheriff's office make Denton County a better place to live while enjoying a sense of personal satisfaction.
Where can you help your community?
Community events
School events
Juvenile Impact Program
Translation services
Fingerprinting services
Crime prevention support Volunteer benefits?
Helping others
Community involvement
Meeting new and interesting people
Personal satisfaction Reasons to be a VIP?
Participate in purpose driven programs that benefit your community
Develop valuable relationships with other volunteers, your county and your sheriff's office
Exercise your special skills, talents and experience in a new venue
Support your sheriff's department employees by performing duties that enable them to concentrate on public service
What are the minimum requirements to volunteer?
Live or work within Denton County
Have a valid driver's license
Successfully pass a background investigation
Have no felony or serious misdemeanor convictions
Interview
Minimum eight hours a month time commitment
Volunteers are selected to ensure a broad community representation.
How do I get started? For more information on volunteering or for an application, contact Deputy Penny Campbell at [email protected] or Deputy Bob Hargenrater at [email protected] or call 940-349-1549.
You may also download an application by going to dentoncounty.com/Departments/Sheriff.aspx and click on Volunteer Law Enforcement Opportunities.