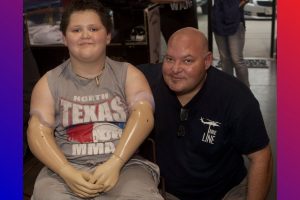 Memphis Lafferty came into the world like most other babies in October 2005; but, six-months later he was dangerously close to leaving it prematurely after contracting bacterial meningitis.
Doctors at Children's Medical Center in Dallas gave him just 12-hours to live. They said even if he did, he'd face enormous challenges after suffering two strokes.
But, little Memphis proved all the doctors wrong.
"He fought in ICU for three-and-a-half months," said his father, Chris Lafferty. "They had to cut off his hands and feet to keep blood pumping to his veins and heart and all his other extremities caught it and turned to purple and black bones so they had to cut those too. But I said: 'the brain's fine, let's go.' "
Though his hands and feet needed to be amputated, then his arms and legs, due to the severe infection, not only did he survive; he's thriving as a youngster not afraid to try as many things as independently as possible.
"My philosophy is: they gave him 12-hours to live at six-months-old; if you look it up, 95-percent of all children who get bacterial meningitis die in 12-hours," said Lafferty, who has raised his son virtually by himself. "He's a very rare breed, so God didn't spare his life for us to feel sorry for ourselves. He did this so he can live; so bottom line is, that's what we're going to do. He's very active; there's nothing he won't try. We just went tree-climbing and snow-skiing. It's actually been pretty crazy."
Born in Texas, Memphis soon moved to Atlanta, where Lafferty worked throughout the entire ordeal first as an executive chef of a country club in Atlanta, prior to moving back to Texas two-years ago. When living in Georgia, Memphis's care was conducted at Children's Healthcare of Atlanta, which designed a device to attach to his arm to so he could feed himself.
When helping his son became more difficult, his employer, Sysco Foods, gave him nights and weekends off to help.
"Sysco has been behind me all the way," Lafferty said. "I didn't tell them about all of this at first, because it's my personal life. I've been taking care of him since he was a baby. I'll figure it out."
Through seven surgeries and multiple rounds of physical therapies, Memphis Lafferty is a 10-year-old who gets to enjoy life to its fullest. His outgoing and adventurous spirit has been instrumental in his survival.
Last year, Memphis was chosen to be a Kidd's Kid, a program that annually sponsors trips to Disney World for seriously-ill children. It's named after the 106.1 KISS FM radio personality, the late Kidd Kraddick, whose daughter, Caroline, executive director for the charity, showed up at Chris' work one day to tell him Memphis was chosen to join the group on the November 2015 trip to Disney World.
"It's a first-class experience with a private hanger and private plane, the best hotels, the best food," said Lafferty, whose sister alerted Kidd's Kids of her nephew's situation.
"You get a 'Genie Pass' where you don't have to wait in line," Lafferty said. "It was an amazing five days. That was great and every kid deserved to go to Disney. But that was a week. What's happened since then has changed my son's life forever."
The desire to do as much as possible like other kids prompted the Flower Mound youngster to ask his father for one major gift before this past Christmas– new arms and legs.
"What do you say to that?" Lafferty asked. "You can't go to Walmart for that."
As he learned just days before Christmas, there actually was a place to get them.
That was when he received a call from Dr. Kevin Carroll, vice president of prosthetics at the world-renowned Hanger Clinic.
He's best-known for developing the prosthetic tail for "Winter," the injured dolphin fitted for the tail in 2005, which was the basis for the 2011 "Dolphin Tale" movie (and its sequel). His movie character was named Dr. Cameron McCarthy, portrayed by actor Morgan Freeman.
Carroll learned about Memphis from the people at the Kidd Kraddick Show who sent him a video of Memphis, soon after the youngster returned from Florida last November with the Kidd's Kids program.
"He said 'I want to give your son a pair of hands for Christmas,' " Lafferty recalled. "I said 'are you kidding me?' and he said 'no, it's my pleasure. I want to do it.' I said, 'a Christmas present is a video game, it's not a pair of hands.' "
The Lafferty's went to the Hanger Clinic in Dallas, where he flew in one of the world's top prosthetic designers to fit him with the hands, which he received in March. Thanks to people like Dr. Carroll, Memphis is able to do things he never could before.
That included personally meeting Carroll, who flew the father and son to Florida, to attend Camp No Limits, the Hanger Charitable Foundation's gathering of amputee children learning life-living skills. The fact Carroll and his team provided the prosthetic hands didn't hurt either.
Because of the normal growth of someone his age, he has needed multiple sets of prosthetic legs. He had parallel bars, which also gave him confidence and courage to want to walk.
Today, Memphis is a fourth-grader at Flower Mound's Prairie Trail Elementary School, where he's a regular student who plays video games and just got a hoverboard.
"He's been playing video games since age two, at first as part of his therapy; now just to play the games," Lafferty said. "Even without fingers he could game with everybody. It was fun for him, not work."
Lafferty never babies his son.
'I've told him 'they aren't growing back, so what are you going to do about it,'" he said. "It can't rain every day."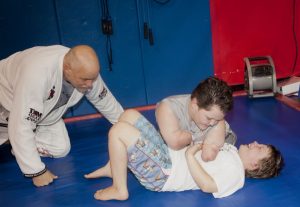 For about 18-months, Memphis also has been learning Jiu-Jitsu at Flower Mound's North Texas Mixed Martial Arts, where he takes off his prosthetics and literally scoots along the mat to challenge fellow students.
His dad likes how owner Tery Corkran and his team push him to do what many may not have thought possible.
"For me, it's [Jiu-Jitsu] discipline which is not like it used to be," Chris said. "It definitely teaches them respect and discipline, the things in life a growing boy needs."
One of Kraddick's disc jockeys, Jose "J-Si" Chavez, told Lafferty of the Wounded Warriors Project gym for amputees in downtown Dallas. It's operated by Travis Mills, a retired U.S. Army staff sergeant and author of the book: "As Tough As They Come." He lost all his limbs when he was blown-up by a mine and has a foundation where he brings amputee children to learn life skills, which Memphis will attend this spring.
Anyone wanting to help the Lafferty's with Memphis' medical expenses can do so by visiting memphislynnlafferty.com where an Atlanta-based organization called Helping Hands Ministry has a fund for him.