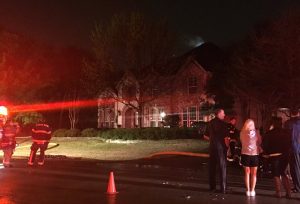 Many Flower Mound residents are assessing damage today as parts of town were hit by up to half-dollar size hail on Wednesday night.
One family on Prince Edward Ct. in Emerald Bay Estates was displaced after lightning hit their home and caused a fire. There were no injuries reported.
If having your home and vehicles pummeled by hail wasn't enough, try dealing with an onslaught of roofing salespeople, general contractors, auto repair shops and the hassle of insurance claims.
Before hiring a contractor, experts recommend contacting the Better Business Bureau and the Office of the Attorney General to determine whether consumers have filed complaints against the contractor in the past.
Read more tips to protect yourself after the storm here.
Flower Mound, TX hail #wfaaweather pic.twitter.com/v2PL7VtvXo

— Mary McClane (@MCMUGA) March 24, 2016
@JMORRIS8964 @TxStormChasers my door in flower mound. About 12″ deep pic.twitter.com/GIL97WkVg1

— Michael John Smith (@MandrakeSmith67) March 24, 2016
In Forest Vista subdivision, central Flower Mound. pic.twitter.com/CPYIIeWpZK

— CrossTimbersGazette (@ctgdentoncounty) March 24, 2016
Hail in flower mound. Caught this mid lightning. @wfaaweather @TxStormChasers @DavidFinfrock pic.twitter.com/PPkEZOayH1

— Laura Toeniskoetter (@tweetsbylaurat) March 24, 2016