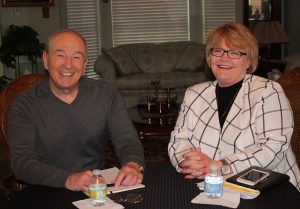 The City of Highland Village, with its scenic views, lakefront homes, walking trails and parks, and very low crime rate, makes it one of the most desirable places to live in the Lone Star State.
Charlotte Wilcox has presided as Mayor since 2014 and is currently running for reelection. Mayor Wilcox came over for a video interview, which accompanies this article. Her opponent, Jim Archibald, has also been invited for an interview.   The following information has been gleaned from a recent interview of Ms. Wilcox by the staff at The Cross Timbers Gazette.
Her Facebook reelection page is: www.facebook.com/MayorCharlotteWilcox
"Highland Village is a sought-after community made up of young, active families. We have beautiful new homes in close-knit neighborhoods. Especially unique to Highland Village is our rolling hills, lakefront homes and many trees. Drive through our city and you will see there is a lot of character to our neighborhoods and homes. Highland Village is primarily a residential community with property taxes paying for the majority of city services. We have kept the same tax rate, .56963, for the last 15 years. Over the years the city has developed to have everything you need right here in Highland Village.
"The residents of Highland Village enjoy walking our trails and playing in our parks. We have a network of trails spanning the length of our city and connecting to HOA trails, shoreline trails, retail centers, city facilities and our parks. The city began building trails in 2005 using 4B sales tax funds. Last year we opened a tunnel under FM 2499 to allow safe passage. Our trails are very popular among our residents. Lakeside Community Park is our newest park. This property was seized by the federal government and we applied for a deed transfer. With the help of Congressman Burgess, we were able to take ownership of the property. The lakefront park now includes two pavilions, picnic tables, a walking path and beautiful views of the lake.
"Soon to be opened is Doubletree Ranch Park. This park is part of Highland Village's history as it was owned by our first mayor and then became a community gathering place for dances, meetings and corporate events. We purchased the property using 4B tax dollars and are developing soccer fields, trails, a great lawn and pavilion for concerts and parties. The park is scheduled to open early this summer. It will definitely be a beautiful addition to our city.
"We used 4B sales tax dollars to build Doubletree Ranch Park and our trails, and it is because of the retail centers, shopping and restaurants that we are able to do these things. We are fortunate to have the beautiful Shops at Highland Village here. Our past councils worked hard to ensure this was a cohesive development and it has paid off. The Shops have done so well, they invested $3 million in renovations to even further enhance walk-ability and create gathering places throughout the center."
Election Day is May 7th, early voting begins April 25 – May 3, 2016.
Editor's note: In the video, Mayor Wilcox mentioned "Wichita Forest." She meant to say "Wichita Estates."
Bob Weir is a long-time Flower Mound resident and former local newspaper editor.