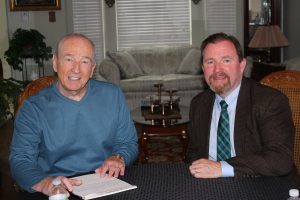 The race for Mayor of Highland Village has two candidates this year; incumbent Mayor Charlotte Wilcox and her challenger, Jim Archibald. Mr. Archibald came over for a video interview, which accompanies this article.
The following information came from his personal webpage: "Mr. Archibald has extensive experience in the semiconductor and telecommunications industries with specialties in wireless devices and networks. He has held prominent positions in hardware and firmware development in addition to customer-centric Marketing, Sales and Engineering Management.
"As a 'Distinguished Field Applications Engineer' with Lucent Technologies and Agere Systems he was ranked in the top 2% of the worldwide sales team. In this role he provided technical leadership and hands-on resolution to thousands of technical issues, thereby enabling customers to design in analog, digital, mixed-signal and RF devices. As Senior Engineering Manager he built a nationwide, high performance team of Field Applications Engineers to provide on-site support to all major customers. As a Sales Engineer he has been responsible for several accounts with annual revenue of $25M or more, growing one account from zero to $35M in a single year.
"Jim is a Senior Member of the Institute of Electrical and Electronics Engineers (IEEE) and holds a PE license (Professional Engineer). He has been awarded five US patents for communications inventions with another three in process within the US PTO. In his community, Mr. Archibald served on the Board of Directors for the Parkland School District in eastern Pennsylvania (over 10,000 students, annual budget of $100M). He chaired the Budget & Finance and Curriculum committees.  Mr. Archibald holds BS and MS degrees in Electrical Engineering from Brigham Young University and Purdue University, respectively. He also holds an MBA with an emphasis in Information Technology from the Florida Institute of Technology."
For more info on Mr. Archibald, please check his Facebook page: https://www.facebook.com/JimArchibald4Mayor

Bob Weir is a long-time Flower Mound resident and former local newspaper editor.