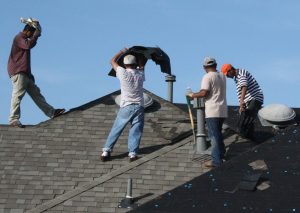 If having your house and vehicles pummeled by hail wasn't enough, now many southern Denton County residents are dealing with an onslaught of roofing salespeople, general contractors, repair shops and the hassle of insurance claims.
"When a storm hits as we have recently experienced, you will see roofing sales people appear from everywhere," said Steve Allen, a Flower Mound-based State Farm Insurance agent.
"Be very careful with those showing up at your door and wanting to walk your roof.  It's always best to have your adjuster finish before working with a roofer."
Carla Shellis, owner of Shellis Roofing in Argyle is also concerned about the out of town companies that have descended on the area.
"The state of Texas does not require roofers to register with the state or get a license or certification," said Shellis.  "Make sure to ask them how long they have been in business and find out where their office is. Also ask if they carry general liability insurance."
Homeowners filing a claim need to watch out for insurance fraud as well.
There have been reports that some roofers are offering to pay the homeowner's deductible.  However, the fiduciary responsibility to pay the deductible belongs to the homeowner's, according to Jerry Fristoe with Integrity Roofing and Painting.
"The department of regulatory agencies state that it illegal for the contractor to contribute to a homeowner's deductible.  Many roofing companies contribute to the insured's deductibles by shady sign credits, discounts, allowances and rebates."
According to Fristoe, Texas law on insurance fraud states that a person who sells services commits an offense if they promise to pay all or part of any applicable insurance deductible or offer a rebate in an amount equal to all or part of any applicable deductible.
Texas Attorney General Greg Abbott warned residents to exercise caution when seeking contractors to help with storm damage and offered the following tips:
Be wary of contractors who show up unexpectedly and offer roofing, drywall and other major repairs, particularly those who are not from the local community and low-ball their offer saying that they have material left over from a previous job and insist on an advance cash payment.
Obtain bids in writing from several contractors first and review each one carefully. Ask contractors if they are covered through insurance or a bond, particularly when considering them for a large project. Check with the city to make sure electricians and plumbers have the necessary license and have obtained the required permits.
Before hiring a contractor, contact the Better Business Bureau and the Office of the Attorney General to determine whether consumers have filed complaints against the contractor in the past.
Get all terms in writing and do not sign a contract without a full understanding of its contents. Do not sign a contract that has spaces left blank. Pay the contractor only as the work progresses, and do not sign a completion certificate until all repairs are done properly. If the work is substantial, consider having an independent inspector look it over before settling the bill with the contractor.
Be wary of solicitations by "public adjusters" or "loss consultants" who offer to help with insurance claims, particularly those who solicit work through unsolicited e-mails, direct mail advertising or telemarketing.
Public insurance adjusters must be licensed in Texas to assist on Texas insurance claims and are authorized to charge for their services either as a direct fee or as a percentage of any claim settlement. The Texas Department of Insurance regulates the conduct and licensing of public insurance adjusters and how much public insurance adjusters can charge.
Before hiring a public adjuster, Texans should verify the public adjuster is licensed in Texas, that the fees are within TDI regulations, and that they read the fine print about charges and services. Residents should also discuss claims with their insurance company to determine whether they may reach a satisfactory settlement before committing to hiring outside consultants or adjusters.
If the claim is for a significant amount over the deductible, residents may wish to speak with a qualified private attorney about their options. Public insurance adjusters or "loss consultants" are usually not licensed attorneys and cannot give legal advice or represent consumers as an attorney on an insurance claim.
For more information, call the Texas Department of Insurance's toll-free consumer hotline at (800) 252-3439 or visit their Web site at www.tdi.state.tx.us.