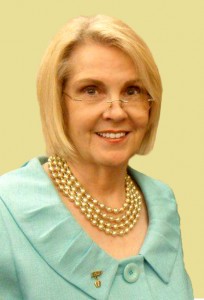 Dianne Edmondson, the longest serving Republican County Chairman in Denton County history, announced Monday that she will not be running for re-election here in Denton County but rather will be seeking to represent Senate District 12 on the State Republican Executive Committee (SREC).
"Since our SD 12 SREC Committee Woman Jean McIver, is term limited and will leave office at the June, 2016 State convention, I will be seeking to replace her," said Edmondson.
"I have been serving as the Texas Republican County Chair Association's liaison to the SREC for two years and have fostered many relationships on that body which will make it easier for me to be productive immediately should I be elected at the State Convention."
Having served for the past 13 years as Denton County Republican Party (DCRP) Chairman, Edmondson said she has mentored several activists in various leadership roles, including precinct chairs and officers and believes that among them is someone who is capable, willing and able to step into the role of DCRP Chair.
Lantana resident Lisa Hendrickson announced Monday that she is seeking the DCRP Chairman position.
"It has been my honor to serve the Republicans in Denton County," Edmondson said, "and I have enjoyed helping to train dozens of county chairs in other Texas counties."
Additionally, Edmondson has overseen a dozen Lincoln-Reagan Dinners, which are the major fundraisers for the DCRP, and they have put the DCRP into a strong financial position, she said.
Another byproduct of her leadership is reflected in the political makeup of Denton County's various elected public officials. Since Edmondson became chairman, not a single Democrat has been elected to a partisan office in the county.
Edmondson admits that she will miss interfacing with county Republicans as the county chair, but she plans to remain involved through the SREC as well as local party activities.
"Being Chairman of the Republican Party in one of the state's 'reddest' counties has been a real honor and certainly the highlight of my political career, and I will continue to help elect conservative Republicans who will work for our traditional Republican values."