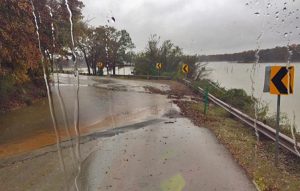 This past weekend's heavy rainfall has caused area lakes to rise rapidly.
Grapevine Lake rose approximately 19 feet in just a few days. Estimates by the U.S. Army Corps of Engineers puts the current lake level at 549.07 feet, and as moisture within the watershed continues to drain, future forecasts estimate Grapevine to be at approximately 553 feet by the end of the week.
Levels are still below the spillway, which is 560 feet, however it is likely that Murrell Park will become inaccessible due to flooding and be forced to close until the water recedes, according to Flower Mound officials.
Lake Lewisville is currently at 529.52 feet, up over 7 feet in the last few days, and rising.
Area roads prone to flooding such as FM 2499 and Old Alton Road were closed intermittently over the weekend, but were open as of Sunday afternoon.
The rain gauge at the Double Oak Fire Station showed a total of 6.63 inches since Thursday. DFW Airport recorded 8.03 inches since Thanksgiving Day.
At 12:14 a.m. Friday, DFW Airport broke the all-time record for the most rainfall in a year.