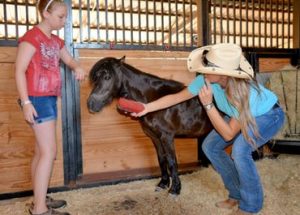 A therapy center and animal rescue in Argyle is expanding its counseling program, adding two new therapists to its ranks.
Ranch Hand Rescue's counseling center has a new clinical director, Cathy Champ, former clinical director of the Children's Advocacy for Denton County. She came aboard earlier this year to coordinate RHR's clinical department and see clients.
"Cathy is experienced in directing a large trauma-focused counseling center with 20-plus years as a therapist using play therapy, child/parent relationship training, sand tray work, cognitive behavioral therapy and other modalities to successfully work with children, adolescents and adults with a variety of issues," said Bob Williams, RHR founder.
Champ is a licensed professional counselor supervisor with a certification in trauma-focused cognitive behavioral therapy and advanced training in equine-assisted therapy through Natural Lifemanship. She also offers faith-based counseling.
Rebeca Mata is also new to the Rescue. She is a bilingual licensed professional counselor supervisor and nationally certified counselor trained in working with children, adults and families. Mata is also certified in trauma-focused cognitive behavioral therapy with years of experience working with sexual and physical abuse victims.
Mata is also trained in equine-assisted therapy through Natural Lifemaship and animal-assisted therapy through Pet Partners. She also provides counseling in Spanish.
"We have so many organizations and individuals asking for our help that we needed to add additional personnel. With Cathy and Rebeca joining us we are able to take our counseling program to the next level," Williams said.