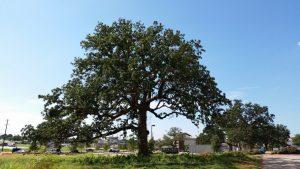 Flower Mound residents love their trees. The town is one of only 77 municipalities in Texas to earn the honor of being named "Tree City USA" by the Arbor Day Foundation for 20 consecutive years in 2014.
"It's important to remember that Flower Mound was originally prairie," said Mayor Tom Hayden. "Look at The Flower Mound itself; just prairie grass and native, slow-growing Post Oak trees; some of which can live for 200- to 300-years. It wasn't until Bob Rheudasil and Ronnie Hilliard began planting trees right and left more than 50-years ago that Flower Mound actually had trees."
This coming Monday, the Town Council will address a 2015 update to the town tree ordinance to protect more town trees by removing the section of the town's land development regulations that grants an exemption from mitigating tree removal for non-residential developers in specific areas of the town. It will also introduce some strategies to turn punitive actions into incentives for developers and residents to address the town's future tree canopy growth.
Earlier this month, members of the town's Environmental Conservation Commission (ECC) and Planning & Zoning Commission (P&Z) both approved removing the mitigation exemption section.
Back in April, then-councilman Mike Walker started the discussion of a 2015 ordinance update to address present-day problems. The town created its original tree ordinance in 2000 and fine-tuned it with an update in 2008.
The section being reviewed states:  "All property zoned for non-residential use and included within the Lakeside Business District, the Denton Creek District and all specific plan areas [SPAs], as defined in the town's comprehensive plan relative only to the requirements of replacement trees and/or cash equivalents for the removal of protected, specimen, majestic and/or historic trees pursuant to a tree removal permit granted by the town council."
Removal of this regulation section would mean that future non-residential projects, in the mentioned locations, must mitigate for the removal of protected, specimen and historic trees that were previously approved for removal during the development process.
In other words, removing the exemption means commercial developers must plant either a replacement tree or make a payment instead.
During the May 4th council meeting, possible solutions for the future of the town's trees were discussed by council members, town staff and residents.
Long-time resident and ECC member Alton Bowman said that each year the number of trees not planted, because of the exemptions, is approximately 500 trees. Construction permit applicants outside a SPA can either plant trees or give the town $375 for each tree.
In the SPA-exempt acres, last year's un-planted trees or lost revenue equaled $187,000 to the tree fund. Over the 14-year span of time that the mitigation has been in place, either 7,000 trees would have been planted, or the town would have received $2,400,000 for the tree fund.
Walker had raised the alternative of "incentivizing" developers to mold their developments around specimen trees, rather than only penalizing them for removing those special trees.
"Re-classifying some tree species—such as the old-growth Post Oaks—could also help solve some of the town's tree issues," said Walker.
Environmental Services Director Matthew Woods added that maintaining, or creating, tree "islands" on slopes or elevations un-hospitable for construction could also preserve or expand the town's tree canopy.
According to a study by Texas A&M, Flower Mound's tree canopy is at 25-percent. The town's ECC recommends coverage of 35-percent.
"We're not doing anything radical here," said Bowman in the July ECC meeting. "We're just returning it to the way it was 15-years ago."
But is the proposed ordinance change enough to save trees in Flower Mound?
"We should consider giving park dedication fee credits to developers who save specimen, protected and Post Oak trees," Hayden said. "Instead of issuing a penalty, give a credit if a development design saves trees."
He added that no one wants to knock down a tree.
"Homebuilders know that lots with trees have added value," said Hayden. "And commercial developers know their value, since it can cost hundreds to millions of dollars in park dedication fees, depending on the size of the project."
He pointed to The River Walk developer who is spending $1 million to plant 400 to 500 trees.
Another idea is to encourage developers, builders and the town engineering staff to get creative when it comes to designing grading and drainage systems on lots. Hayden said the way lots are designed in Flower Mound, water typically flows from the back of a home, to the front and into the street. Hayden said that the design often times requires the removal of a lot of trees, sometimes even clear cutting.
"Allowing the town engineers to study how water flows naturally across yards and then into the street and making adjustments, which is known as 'lot-to-lot' drainage, could save trees and avoid clear-cutting," said Hayden. "If drainage can be reviewed on a case-by-case basis, like is routinely done in Austin, it would allow engineers to have greater flexibility."
Councilman Bryan Webb and Hayden both support the purchase of a large "spade truck" that can be used to relocate trees from development projects to a new temporary place on the property, or a permanent location in town where the tree can be preserved and protected. It would be used mainly for trees of 10- to 12-caliper inches.
"If a developer had a tree in what would be the middle of a parking lot, and it could be relocated and had survived for a year, then the developer would get full credit," said Hayden. "Transplanting the trees could cost from $200 to $1,000, that's much less than remediation for taking out the trees."
Webb said it's important to remember the point of the exception in the first place was to spur economic development. If another incentive should be implemented to re-level the playing field, then that should be evaluated.
He and Hayden also think that the town's tree removal process should also be evaluated. If the ordinance becomes clearly defined, then tree removal permits could be handled administratively unless there is a disagreement between the developer and the town staff. In that case, it would go to the ECC and the Town Council.
"I believe allowing an administrative approval on these would add a level of certainty for the applicant and consistency for the residents as they would understand upfront what is and is not allowed," said Hayden
He added that trees are a renewable resource and while retention of existing trees is important, so is adding new economic growth.
Hayden said that the town is in negotiations to purchase 20- to 30-acres of parkland in western Flower Mound near Canyon Falls.
"About 2- to 3-acres could be used for a community garden, and about 3- to 4-acres could be used as a tree farm, or 'bank,' which could hold up to one thousand trees," he said. "After the first four years of growth, some 200 saplings would be given to residents for planting in honor of Texas Arbor Day during the first weekend of November."
Hayden said that if town residents want to have a future 35-percent tree canopy, they need to look to the past and planters such as Rheudasil and Hilliard.
"All of us, as citizens, need to plant more trees," he said. "We all need to get our hands a little dirty."