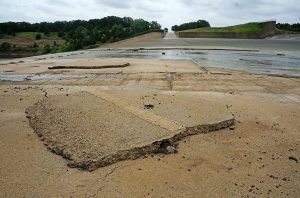 We know you've been waiting for information about Fairway Drive and the Grapevine Lake Spillway — specifically, when the road might be open to traffic again.
While we have some answers, they aren't exactly what residents may have been hoping for.
It's likely that Fairway Drive won't be reopen until upwards of 4-6 weeks, according the the Army Corps of Engineers in Grapevine. The Town of Flower Mound, however, says there is no definite timetable for the road to be opened, as workers have not yet been able to inspect the road for damage.
The water only just stopped gushing over the spillway within the past 24 hours and once it dries out, the Corps will have to repair the road where the asphalt has been pulled up by the water.
"It we get any rain it'll be right back up there," said a Corps representative.
And we are expecting rain today.
Yesterday, the lake elevation was at 560.08 feet, and today it is at 559.95 feet. The lake stops spilling over Fairway Drive at 560 feet.
Although the water is literally gushing over the spillway, only 1/10 of a foot of water actually pours over it each day because the lake is so large.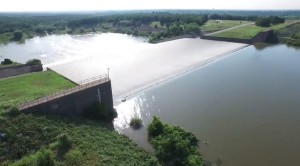 And what would happen if the lake's gates were opened? Grapevine Lake would flood the whole Dallas area. The gates are open slightly, but if they were even slightly more open the FM 2499 area between the Denton Creek Bridge and the Gerault Road flyover would likely flood again.
Murrell Park in Flower Mound likely won't be open until at least October, according to the Corps. Workers are just now gearing up for cleanup.
Boaters can go on the lake, but Silver Lake Marina in Grapevine is the only one open on the lake at this time.