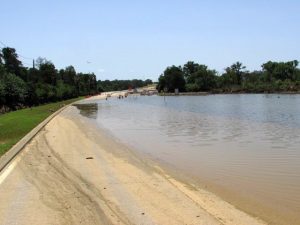 UPDATE (6/23/15 @5 p.m.): Following an assessment of FM 2499 on Tuesday afternoon, Flower Mound Emergency Management staff reported that water is receding from the area at a good rate.
However, there is a substantial amount of silt and debris that needs to be cleared from the roadway, median and shoulder.
TxDOT crews were planning to begin the process of debris removal Tuesday afternoon, and once the northbound lanes are free of water they can begin their infrastructure inspection.
While no timeline was disclosed, it is likely that if there is no structural damage the northbound lanes of FM 2499 will reopen before the southbound lanes, town officials said.
Mayor Tom Hayden tweeted on Tuesday: "Spoke with TxDOT officials this morning, assuming there is no road damage the reopening of 2499 will occur quickly upon the water receding."
Other reports have alluded to the possibility of a long slog before the road is open to motorists after flooding ebbs.
Between 55,000 and 60,000 cars travel through the south end of Flower Mound daily, Hayden said.
According to Hayden, the town could even open up the north side of the highway as soon as water recedes, without having to wait for the south side as well.
Michael Peters, of the Texas Department of Transportation said that the road should be safe to open as long as there is no damage and once they are assured that the Denton Creek bridge has structural integrity. Peters said TxDOT does not anticipate any damage.
"Once the waters recede and it is safe for travel," he said of when the roadway will reopen. "We don't have a timetable."
Crews are now out at the area around the clock evaluating and clearing debris, Peters said. The water is slowly going down, but it is still about three-feet high in some parts.
When Grapevine Lake crested, the water was about four feet above the spillway. As of this afternoon, the water was just 2 feet above the spillway.
"We're a hostage to mother nature," he said, unsure when the flooded highway will dry out.
"I live in Bridlewood and I work near the corner of I-635 and I-35E. I take Flower Mound Road to Hwy. 121 to I-635 and across and it took me one-and-a-half hours to get to work this morning," Hayden said.
"I'm living this everyday with you," is Hayden's message to residents of his town. "I just as much want to get it cleared."
Stay with The Cross Timbers Gazette for updates.