In 2001, a group of visual artists who live and work in neighborhoods in Flower Mound, Highland Village, Double Oak, Copper Canyon, Argyle, Bartonville and Lewisville joined together to create the Cross Timbers Artists Studio Tour.
During the tour, member artists open their studios to display their art and working spaces.  Many artists also provide demonstrations and hands-on activities in which the public can take part.
The purpose of the tour, which is held the second weekend in November each year, is to give the public an opportunity to explore the artistic process first hand, showcase the variety of fine art available in the local area, and create a sense of community among area artists. This unique and popular Denton County art event has provided art education in a neighborhood setting for thousands of people since its inception.
In 2007, tour artists , strengthened their commitment to the community by forming an unincorporated non-profit association; the Cross Timbers Artists Guild to encourage an interest in and an appreciation for the creative processes, materials and ideas related to the visual arts. The guild hopes that through its activities it will inspire students and adults to pursue the visual arts as careers and hobbies, and to increase public awareness that art thrives in area neighborhoods.
In addition to hosting the studio tour each November, the guild maintained an art gallery showcasing members work at the Shops of Highland Village from 2009 to 2011 and continues to participate in several local exhibitions annually.
Since the first tour in 2002, the organization has grown from 6 artists to 20-plus and includes artists from a wide range of disciplines such as painting, sculpture, ceramics, jewelry, clay, glass, fiber, furniture and mosaics.
This year's tour will be Nov. 7 and 8 with an opening reception at Premier Gallery on Nov. 6.  It is a great opportunity to see art being created first-hand.  Some of the artists participating on the tour include: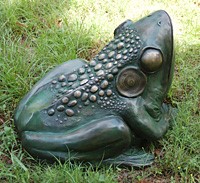 Sweety Bowman — Potter and Sculptor
Sweety Bowman, resident of Flower Mound since 1970, is an associate professor of Art at Tarrant County College Northeast Campus, in Fort Worth. Sweety also maintains Yarmouth Studio next to her house in Redbud Point, where she has led workshops in throwing, glazing and firing techniques. Sweety was the founding chair of the Cross Timbers Cultural Arts that built the Sam Lusk Outdoor Theater in 1985 in Flower Mound.
She was artist in schools for the City of Tyler in 1976 and artist in residence for the City of Dallas in 1978. Her work is published in ACERS Extruder Book by Daryl Baird. She works primarily in cast bronze and clay, making sculpture and functional vessels. Her work may be serious or whimsical, abstract or naturalistic, social commentary or objective, but it is always exploring technique and process. She will be exhibiting her stoneware vessels and cast bronzes.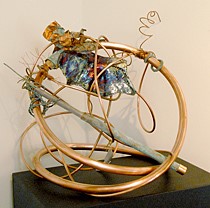 Linda Chidsey — Jewelry, pottery, wall art
Linda devotes her time, energy and focus to producing beautiful wearable art, extraordinary pottery and unique copper creations. She strives to bring individuality to each piece of art that she designs. She utilizes the highest quality of natural stones and gems in her jewelry.
Her amazing, one-of-a-kind jewelry inspirations provide exclusive and exciting fashion accessories. She takes every opportunity to explore new concepts and ideas to create innovations in her artwork.
Her sculptures are distinctive contemporary art that takes advantage of the raku firing technique which results in brilliant iridescent colors. Linda often leverages raku pottery sculptures in her wearable jewelry art and copper sculptures.
The copper art is a creation that can be displayed on a table, wall or hung from the ceiling either indoors or outside. These sculptures have various polished and patina copper elements and often utilize raku pottery.
Gloria Haefner-Gatti and Richard Gatti — Hand weavers / fiber arts
"Fabric is an indispensable part of each of our lives. Weaving is a very basic life art that's been around for thousands of years. Take fabric in your hands, stroke it, feel its softness and the way it moves, look at its color and intricate design.
Weaving is complex; blending artists color theory with design skills from the draftsman and mechanical skills from the factory. Gloria first became fascinated with the intricacies of weaving almost 20-years ago. Richard, a meticulous production weaver, carefully turns each of Gloria's designs into a dynamic finished product.
Together they operate Lake Trail Studio which produces one-of-a-kind and limited edition scarves, shawls, kumihimo braids, and household accessories such as table runners, dishtowels and tea cozies. In keeping with their high quality standards, Gloria and Richard use only hand-dyed silk, plus virgin merino wool, tencel, cotton, rayon and metallic threads.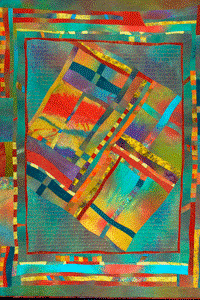 Barbara O. Hartman – Quilt maker
A native of Yuma, Arizona, this southwestern heritage is apparent in Barbara's work. Since she began quilt making in 1980, her original designs have displayed a contemporary southwestern flavor along with Amish and art deco styles.
Barbara's grandmother quilted out of necessity using scraps and discarded clothing and made special quilts for each family member. Her mother was a dressmaker and entrepreneur, who founded a small dressmaking company in the 1950's that specialized in southwestern-style clothing. Barbara's father was a talented artist/craftsman as a gunsmith and knife maker.
Quiltmaking has given Barbara a needed outlet for self-expression. The work she is doing today reflects her attitudes about herself, life in general, with a little social commentary added for good measure.
In addition to making quilts and teaching, Barbara also has judged many quilt shows, curated exhibitions, and has self-published a pattern line since 1989.
Barbara lives in Flower Mound, where she spends as much time as possible making quilts when not traveling or teaching.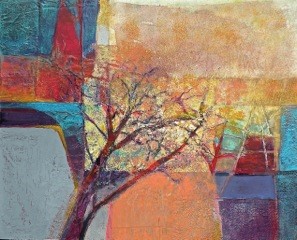 Lorraine J. Hayes — Mixed media painting and printmaking
Her imagery is a blend of realism and abstraction. Abstraction and metaphor are key elements in her art. She frequently incorporates symbols from diverse cultures both ancient and modern.
The forces of nature inspires her and the richly varied natural surfaces give rise to her wonder and awe. Travel was part of her early years and she continues to explore far-away places and use her camera to record her experiences.
She is basically a studio artist and work from my photographs to create her work.