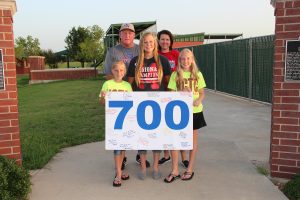 by Darin Allred
After a bus accident claimed the lives of four of their teammates in September 2014, some wondered whether the North Central Texas College Lady Lions softball team would even want to play their Spring 2015 season.
But to honor their teammates, the Lady Lions not only played, but finished with 30 wins, qualified for the NJCAA Region V North tournament, and even won a game at the regional tournament. That final win of the season, which came at the regional tournament, gave NCTC head softball coach Van Hedrick his 700th career victory.
How fitting it was that after everything the team went through, it was this group of young women that were able to give the coach the milestone win.
"Actually I had kind of forgotten about it," Hedrick said of his 700th victory. "It was mentioned at the beginning of the season and honestly I don't think [the players] knew about it at all. The win was nice, but just as important was the fact that they were able to make the playoffs this year.
"That just speaks to their heart. They could have easily folded the tent and not continued the season. They were the ones who had to stick together, get through it and produce on the field."
Hedrick, who was an assistant baseball coach at NCTC up until 1998, became the school's first head softball coach when the college started the program that year. Now in his 17th year as head coach, he admits that there is no way he could have imagined reaching 700 wins.
"After going 15-46 that first year, I didn't even know if there was going to be a year two," he joked. "When I started softball fresh out of coaching baseball, I had no idea what it would lead to. Obviously I have enjoyed it and it's been a great career. There is no way I could have done this without all the assistance I've had.
"It's really not fair for me to get credit when there is so much else that goes into every facet of the program. It also speaks to being happy where you're at and having the support of the administration to run your program the way you want to."
This past season was obviously the most difficult ones of the coach's career. After the bus accident in September, the team canceled the rest of their fall season and did not step back on the softball field until the first day of Spring practice in January.
"I think the mindset going in was that it's going to be great to just get on the field and say that we are playing this year," Hedrick said. "But I think that once we all got on the field, everyone always wants to compete and wants to win. So that might have been the mindset early on, but once we got out there and saw that we had a chance to compete and then had a chance to make the playoffs, I think that kind of kicked in more toward the end.
"I would be lying if I said that (the accident) wasn't always in the back of my mind at some point, but I think being able to practice and play helped everyone get back to some degree of normalcy, if that's even possible."
Normal for Hedrick is winning. Since that losing season in his very first year back in 1999, his Lady Lion teams have not had a losing season since. His teams have qualified for the regional tournament 17-straight years, winning two conference championships, two regional championships and making two trips to the NJCAA National Tournament in Utah.
His overall record of 700-351 puts him in the Top 15 of all active NJCAA softball coaches. Softball is not just a career for Hedrick now. He has three daughters of his own, all of which play softball. His oldest daughter, Ashley, just finished her sophomore year at Lindsay High School where she was an All-District pitcher for the Lady Knights.
"Ashley is a little more involved in it at this stage than they two younger ones are," Hedrick said. "It is fun to now be able to recruit at the same select tournaments where she is playing."
Is it difficult for him to sit in the stands at his daughter's games as a spectator?
"Yes, but it is probably harder for her because I know she wants to do her best and make me proud. Probably the coach side of me comes out more, because we are always talking about situations, how she should approach things, or what she needs to do to try and be able to compete at that next level. So I would say while we are there, she is around the coach, but on the way home, it's dad."
Now, Hedrick and his assistant, Taylor Christian, are back on the recruiting trail, trying to find future Lady Lions to continue the legacy of success both on and off the field. And with that success will come future milestones.
"I'd say that early on, it wasn't that big of a deal, but as time has gone on, I can look at those and say 'you know that was a pretty neat accomplishment.'"
Darin Allred is a public relations specialist for NCTC.