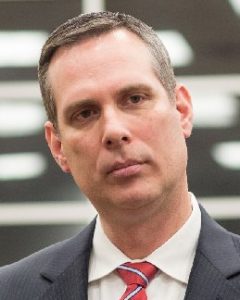 by Annabel Thorpe
From coaching, to teaching, to being an assistant principal, James Hill is now preparing to take his next step.
"It's a calling to me. It's not a job, it's something I'm called to do," Hill said.
Hill officially assumed the role of principal at Argyle High School on July 1, taking the position of former principal Jeff Butts.
"It seems like a really good opportunity here," Hill said. "It's a growing district, and it's a school with a lot of success and a lot of tradition."
Previously acting as the assistant principal at The Colony High School for four years, Hill will face a population downsize by a rough estimate of 1,000 students. He anticipates it to be "absolutely a good thing".
"It will be different," Hill said, "But I am looking forward to a smaller tight knit community."
At Hill's previous school, his main goal was to "build up school pride" by working with community members and hiring highly qualified staff, but it was not always Hill's plan to work in administration. Hill was in the process of earning a bachelor's degree in business at the University of North Texas when he first switched paths.
"I was taking business classes, but had no direction in what I wanted to do," Hill said. "But after talking to my friend who wanted to become a teacher, I realized that I loved sports and helping others. So, I changed my major and got into coaching."
After working as a basketball and football coach for roughly nine years, Hill said he learned many life lessons from those experiences, which have made him who he is today.
"It taught me a lot about teamwork and working toward a common goal," he said. "It taught me the importance of leadership and fighting for what is important."
Although Hill enjoyed coaching, he soon realized his priorities had changed after he married and had his three children, Noah, Avery, and Bridgett.
"In coaching, you don't get to see your family that much," he said. "But, luckily I had a really good principal at the time that encouraged me to get into administration instead. So, I was able to get my first assistant principal job."
Since then, Hill has had many opportunities to work with thousands of students, but his main focus has always been to help his students do well in their chosen path.
"Whatever it is that I can do to help a kid be successful I am going to do it," Hill said.
"Sometimes that means just being at the games or starting programs, and sometimes it means discipline. I just got a letter from a kid that I worked with last year who's going to college in Illinois saying how much it meant to him that I took time to help him look at colleges and send him in the right direction. Little things like that make me realize, this is why I do it."
Once Hill tackled the task of successfully helping The Colony's students, he set his sights on becoming a principal.
"I always want to better myself," he said. "As a principal, I have the ability to affect a whole school of kids in a positive way."
Family friends in Argyle were the first to notify Hill of the opportunity for the high school.
"It [Argyle] had popped up several times throughout the year," Hill said. "When I started looking into it I saw all the great things going on here, and all the successes, and looking at how it is growing really drew me in."
In order to familiarize the community with their future principal, AHS hosted a teacher meet-and-greet on May 22 and an Argyle Community Reception was held on May 26. In the upcoming year, Hill said he plans to spend time with the students in the hallways and just be visible.
"The hardest part is going to be figuring out how things are done here and getting to know everybody," Hill said. "So, I'm not going to be sitting in my office all day long."
When considering future plans in for AHS, Hill said no school is perfect, but he does not plan to change the ways of Argyle until at least after the first year.
"You don't want to come and just change stuff," Hill said. "I think I need to get in here first and evaluate, get to know the school, then I can start determining what needs to be improved on."
Overall, Hill claims to be very excited to begin his time at Argyle and has growing anticipation to see what its' student have to offer.
"I love being a part of student success and encouraging them," Hill said. "I have the opportunity at Argyle to affect almost 800 kids in a positive way, and I'm excited to be a part of that."