Last week, the makers of special edition MONOPOLY boards announced that Denton its getting its own edition of the classic board game.
Top Trumps USA, the American division of Winning Moves International and creators of classic games and puzzles, will officially debut MONOPOLY: Denton Edition in Fall 2024, under license from Hasbro, according to a company news release. Top Trumps USA is seeking well-established Denton businesses and nonprofits to honor communities across the city.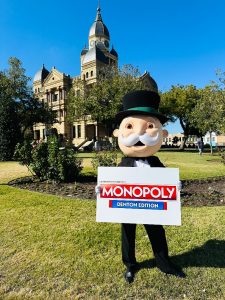 MONOPOLY: Denton Edition will replace the perennial board game's famous Atlantic City squares, from Boardwalk to Park Place, with Denton businesses, nonprofits and landmarks. The special edition MONOPOLY board will also include a customized Community Chest and Chance playing cards and MONOPOLY money, ensuring each detail of the game pays homage to the Denton community.
"Denton is such a unique community with rich history from being known as a university town to its vibrant live entertainment scene. It is a very welcoming, innovative, creative, diverse, unique, and authentic City. We aim to ensure that MONOPOLY: Denton Edition is an accurate portrayal of what Denton locals and tourists love about this charming city," said Sarah Bowman, a Top Trumps representative. "From universities to downtown historic businesses and vibrant venues to nonprofits Denton staples, we would love for everyone to get on board and send us recommendations of their favorite organizations and landmarks around town."
To ensure the board captures the most essential elements of Denton, Top Trumps is seeking recommendations from the public about which locations should be presented on the board. Public submissions and business inquiries can be sent to [email protected] for consideration.
MONOPOLY: Denton Edition will be available in stores and online at retail partners, including CVS, Amazon and select local Denton retailers. To learn about the MONOPOLY city experience boards, visit www.toptrumps.us.