The town of Flower Mound announced Tuesday that the Flower Mound Police Department is partnering with NAMI North Texas, a mental health nonprofit, to create a new Overwatch Peer Support (OPS) program.
The management partnership will save lives and open the door to a myriad of additional community resources for first responders, according to a news release from the town of Flower Mound. It will aid in early intervention for mental health and preventing unhealthy coping strategies provoked by the repetitive trauma emergency service professionals experience each shift.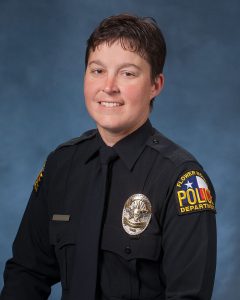 Det. Michelle Horridge, who has been with FMPD for 18 years and also serves as NAMI North Texas' frontline wellness coordinator, will lead the partnership.
"The partnership with NAMI North Texas and Flower Mound Police Department allows us to provide even more peer support and mental health resources to first responders within our community," Horridge said. "We will be able to expand the OPS program by adding more peer supporters throughout North Texas."
"Det. Michelle Horridge has not only been a champion OPSupporter since the program's implementation, but she has also been a highly-valued resource as we built the in-person training curriculum," said Dr. Athena Trentin, Executive Director of NAMI North Texas. "Her passion and experience in first responder peer support embodies everything we could hope for in a key law enforcement ally."
The NAMI North Texas OPS program is the first of its kind: in-person, no-cost, confidential, community-based, inter-agency peer support network for first responders. This innovative program provides a private option to take the first step towards mental health care, making it easier for first responders to seek help, prioritize their own well-being, and connect with vetted, culturally appropriate clinical care when necessary. Intended to be supplementary to intra-agency support teams, OPS serves as an additional resource to optimize first responder wellness and professional performance.
After more than a decade of experience working with law enforcement, NAMI North Texas developed the 16-hour, high quality, law enforcement peer support certification course in 2021-2022 with the help of the Meadows Mental Health Policy Institute. Once an officer completes this training, they receive an OPS certification and are eligible to provide 1-1 support to other law enforcement personnel who request assistance through OPS. Officers are also trained to recognize when peer support is not enough, thus serving as bridges to professional mental health services that specialize in treating first responders.
Currently, the OPS program is available to all law enforcement professionals, including communications/dispatch, corrections, and civilian employees of law enforcement agencies. The program is intended to expand to Fire/EMS late summer, early fall 2023. NAMI National will soon expand the program across the U.S. through their Frontline Wellness Initiative, making OPS available for implementation at more than 600 local NAMI Affiliates nationwide.
"By taking on a partnering leadership role in OPS, the Flower Mound Police Department is demonstrating a solid commitment to the North Texas community and joining NAMI North Texas as a national leader in first responder wellness," the town said in a statement. "This also adds immeasurably to Flower Mound Police Department's own in-house support and wellness programs."