Bryan Stone promises he and his brothers aren't having an identity crisis. They are like any entrepreneurial-minded siblings in that they saw a cool business opportunity and jumped at it — even if it had nothing to do with what their family had become known for over the past 43 years. And now, they have more fun ideas than they know what to do with.
"Business is good. It's just that we've had so many things fall into our laps all at once," he said with a laugh. "All I know is we've had some local people tell us, 'We finally have something cool [for car people] in Flower Mound."
He added, "It is becoming quite a cool hangout. And we've only been here for just under a year."
That "something cool" everyone gushes over is Texas Speed Factory, affectionately dubbed a veritable Mecca for local car enthusiasts. Created by Bryan, Raymond, and Jeff Stone and their business partner, Thomas Horner, Texas Speed Factory is home to Classic Recreations and Shelby Garage, where they specialize in recreating, modifying, repairing, and uplifting American muscle cars and trucks. They also host car shows and give tours to those who want to see them build classic vehicles such as a Shelby GT500CR.
And that lifestyle cherry on top — an on-site, high-end virtual gaming facility that features a 5-star restaurant and bar.
The 7.7-acre, 97,000-square-foot campus is open for business at 3151 Justin Road, across the street from Walmart.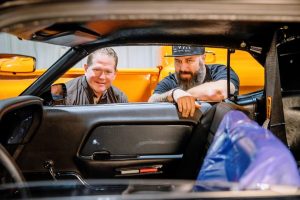 "Thomas' family operated out of this facility for three generations, and we wouldn't be here without him. So, collectively, we thought, 'How do we create a brand that represents adrenaline, speed, entertainment, fun, car shows, and American muscle?' What we came up with was Texas Speed Factory," Bryan said. "You can come and enjoy our car shows, have your car worked on, enjoy gaming and restaurants while you wait, take tours of our facility, buy merchandise — you name it. It's still in its infancy stages, but people have been blown away by what we're doing. God has been very good to our family."
The Stones may be new to the car industry but are far from newbies to business ownership. Starting with their parents, Kent and Kathy, the Stones owned a popular fire and water damage restoration company called SERVPRO for 43 years. In fact, Raymond's sons still own a franchise location in Flower Mound. But just before the start of the COVID-19 pandemic, the Stone brothers sold their business and purchased an auto manufacturing company called Classic Recreations.
While that may sound like quite a leap, the Stones were already massive car enthusiasts. They were also really good at working with their hands and fixing things. So it was more of a natural transition than many might think.
Plus, it looked like a fun concept.
Initially started in Oklahoma 15 years ago, Classic Recreations became known for recreating and restoring handcrafted, trophy-winning, track-burning high-performance cars and trucks for clients worldwide. Recreation is different from restoration in that instead of restoring a classic with original parts, they use the original vehicle's body, style, and legacy (its soul) and customize the rest of it with all the modern amenities, technology, and performance.
The result is the finest custom cars being built in the world right now. This includes the world's first all-carbon fiber Shelby GT500CR. Every Classic Recreations 1965-1968 Mustang has an official Shelby serial number and is listed in the Shelby Worldwide Registry. All vehicles are handcrafted and built in-house with expert precision and attention to detail.
Among its many accolades, Classic Recreations was recently granted a unique, exclusive license by Shelby Licensing to build 10 Carbon Fiber Shelby Cobra Race Cars, dubbed the "Diamond Edition," in celebration of Shelby American's 60th anniversary.
"Most of our clients are spread out worldwide," Bryan said. "What we didn't expect was the following we'd have locally."
Bryan said he and his brothers consolidated their operations and moved everything to Flower Mound last December.
And that's when things got interesting.
There were four buildings on the new property, including one they didn't need yet. So they leased it to Esports Virtual Arena (EVA), a high-end virtual gaming company with which the Stones and Thomas Horner are now partners.
Meanwhile, local car enthusiasts were taking notice of the Shelby Mustangs and muscle cars parked outside of Classic Recreations. This led to residents wanting regular tours of the facility, then two car shows. The first car show in June drew roughly 2,000 people and 175 cars, and the second drew in 100 vehicles and was just as successful.
"People started asking, 'If you can do this with those recreated vehicles, can you work on my 1968 Camaro?' We were instantly like, 'Sure, we can,' and that led to creating Shelby Garage," Bryan said. "Folks may not be able to afford our recreated cars, but they have a nice vehicle and can get the same guys working on it. We sell parts, merchandise, and anything else related to American muscle, performance, and off-road. We also have a budding partnership with RTR, the high-performance racing brand created by Vaughn Gittin, Jr. We are resellers and installers of their parts and merchandise."
Hence, the Texas Speed Factory.
As for the future and their so-called identity crisis, even Bryan hinted that he's not sure what will happen next.
But he and his partners will have a lot of fun finding out.
"Our families have been business owners since 1977, and I remember asking my mom once how they managed to be so successful. She said, 'Honestly, son, your dad and I were too simple to realize we couldn't. It was a lot of hard work, determination, and trusting the Lord,'" he said. "That always stuck with me through the good and bad times."
He added, "We've always been car and off-road enthusiasts. It just never occurred to us to get into that business before. It was a natural transition because we were used to restoring properties for 40-plus years. Now, we do the same thing with cars."
If you'd like to learn more, visit texasspeedfactory.com for more details. Or better yet, stop by and see for yourself.