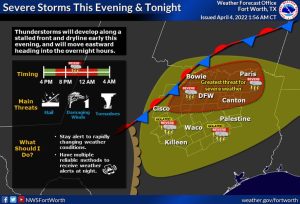 Scattered strong to severe storms are expected to develop Monday evening in North Texas and affect much of the area, including Denton County.
A Tornado Watch has been issued for Denton County until 2 a.m. Tuesday.
The National Weather Service forecasts that thunderstorms will develop along a stalled front and dry line early Monday evening, heading east through the overnight hours. The severe weather is expected to be impacting the area from around 8 p.m. through 2 a.m., and the main threats are hail, damaging winds and potential tornadoes.
Southern Denton County is most likely to experience the severe weather between 8 p.m. to midnight.
Click here for more information.