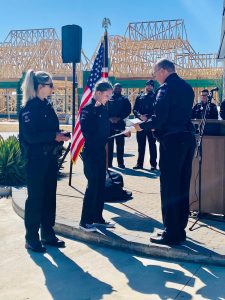 A young Pecan Square resident was surprised over the weekend by being named the Northlake Police Department's first honorary police officer.
Anna Rhone began having medical issues in November 2019, and sought treatment for skin tightening and painful joints. After six months of testing, other issues formed, and she was eventually sent to a rheumatologist at Cook Children's Hospital, where  she was diagnosed with Systemic Sclerosis, a rare, painful auto-immune disease that produces excess collagen, causing the skin to tighten and joints and internal organs to form abnormalities.
Anna has endured occupational and physical therapy, aggressive treatment of monthly infusions that last up to six hours and chemotherapy shots every week. Until a cure is found, Anna will be subject to this treatment for life.
"This is unfortunate, but we have seen a side of Anna that is more than amazing," Northlake Police Chief Robert Crawford said during the event. "Anna was chosen to be a representative of Cook Children's Hospital as a patient ambassador. She has been invited to and has spoken at many fundraisers and functions to tell her story. She even started a coloring book drive to donate items to Cook Children's for other children at the hospital."
In 2022, Anna was named the Children's Miracle Network Champion.
After meeting some officers at a recent community event, Anna told her mom that her dream was to become a police officer, and when Northlake PD caught wind of that, they wanted to make it happen. On Saturday morning, Northlake PD held a swearing-in ceremony for Anna, who didn't know about the event before she got there. She got to celebrate with lots of local police officers, local officials and other community members.