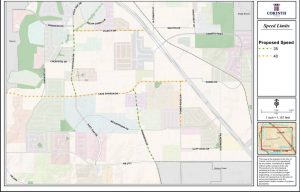 The city of Corinth recently approved raising speed limits on several city streets.
Several streets will have speed limits 5 mph higher than before, while a few are now 10 mph faster than before. Below are the changes that were approved:
Church Drive from 30 mph to 40 mph
Lake Sharon Drive from 35 mph to 40 mph
Parkridge Drive from 30 mph to 35 mph
Post Oak Drive (From Robinson Road to Lake Sharon Drive) 30 mph to 35 mph
State School Road from 25 mph to 30 mph
Tower Ridge Drive (From Lake Sharon Drive to Meadowview Drive) 30 mph to 40 mph
The changes will go into effect once new signs are made and installed. A city spokesperson said there currently is no expected date for the signs to be installed.