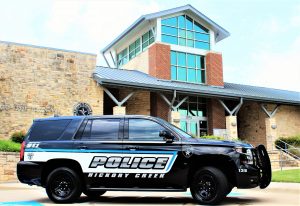 A suspect wanted for manslaughter and burglary was arrested Friday morning after a multi-agency search along I-35E in the Hickory Creek/Highland Village area.
At 6:11 a.m. Friday, a Hickory Creek officer attempted a traffic stop on a vehicle headed south on I-35E, according to Hickory Creek Police Chief Carey Dunn. There was a brief vehicle pursuit, followed by a short foot pursuit, and then officers fell back to a permitter and called for K9 and drone assistance. The Highland Village, Corinth, Lewisville and Lake Dallas police departments assisted with a ground search in the area, but it was unsuccessful.
Upon further investigation, Denton police located the suspect in Denton and took him into custody, according to police.