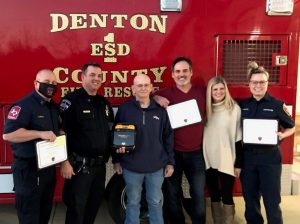 A man suffering from cardiac arrest Saturday on Lantana Trail was saved by the quick thinking of good Samaritans, a Bartonville police officer and local paramedics.
A little after 5 p.m. Saturday, a driver on Lantana Trail saw the man, Dave Eaton, lying unconscious near the road, according to Cody Miller, division chief for Denton County ESD No. 1 (formerly known as the Argyle Fire District), which provides emergency services for Lantana and much of southern Denton County.
The driver stopped to check on the man, called 911 and began administering CPR. A Bartonville police officer heard the emergency call and responded immediately, arriving before the ESD paramedics. The officer used a defibrillator to shock the patient and continued to administer CPR.
ESD paramedics soon arrived and shocked him again and got the man's pulse back, which Miller said doesn't happen often. They continued to treat him and transport him to the hospital, where the man is expected to continue to recover and be able to return home.
Miller said this instance illustrates how important it is for everyday people to know how to help in similar situations and how to administer CPR.
"Every CPR save I've been a part of, someone started it before we got there," Miller said. "The CPR and AED being administered immediately there greatly influenced this patient's survival. They say that for every minute that goes by without compressions, survivability decreases 10%."
Miller encouraged residents to seek CPR education so that they can be prepared to help in a similar case.
Eaton's wife, Patti, recounted his story on Nextdoor: Neil Conklin and Carrie Cannon (a Lantana resident) were two of the first people to stop and provide assistance. Neil said there was already a woman there with my husband when they stopped, but he didn't know who she was, and she didn't have a cell phone with her. Another angel? Also, another angel (we don't know who) called 911 before Neil and Carrie called. Neil and Carrie were driving down Lantana Trail when they saw Dave lying on the ground. They stopped their vehicle, called 911, then Neil administered CPR while Carrie held the phone up to his ear so he could hear instructions from the emergency personnel (more angels). He continued CPR until a police officer arrived at the scene. All the while, Carrie was praying for Dave. Officer Lance Pendleton from the Bartonville Police Department was on his way to get gas in his patrol car before going home when he heard dispatchers (even more angels) put out the call. He was close by, so responded. He had a portable defibrillator in his patrol car, and administered the first of three "shocks" to Dave's heart. First responders from Denton County ESD Station 513 on Copper Canyon Rd (B Shift) Kerry Brown, Sam Johnson and Danielle Hamilton as well as DCESD Station E511 on Gibbons Rd. (B Shift) Steven Hix, Patrick Nuoci Sr., Max McDonald, and Patrick Nuoci Jr. also responded to the emergency call. Dave was transported to Medical City Denton ER where another angel, Nurse Amanda, went above and beyond to care for him – even staying long past her shift. As soon as a room was available, Dave was transferred to Medical City Frisco where doctors didn't give him much of a chance of survival. All except one. Dave's cardiologist told me, "Don't give up hope. God is in control." Dave is now at home, back to work and back to running. I know this is a long message, but we both wanted to recognize and thank all the hundreds of people who have been involved in Dave's recovery. From the emergency dispatchers, to Neil and Carrie, to the emergency responders, to the doctors, to all of you prayer warriors – Dave would not be here if it weren't for you. We believe God put each and every one of you where you needed to be at just the right moment, and we thank you for being willing to do what He called you to do! With our sincerest thanks, Dave and Patti