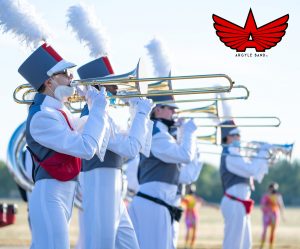 The Argyle High School Band won the 4A state championship on Monday night at the Alamodome in San Antonio.
Argyle was tops among 20 bands competing in the event, receiving the No. 1 ranking from four of the five judges and getting a total score of 8, easily better than second-place Melissa High School's 14.
This marks Argyle's 7th State Championship and the first since 2014. Argyle is now tied for the most state titles in UIL history, regardless of classification.
"This state championship continued a strong legacy of success in the Argyle community," Band Director Jason Bird said. "It's not, however, the trophy and the medals that are the most important for these young men and women. It's the lessons learned through this journey. The commitment to the team, the dedication to achieve goals, and more importantly the memories and relationships that are made during these moments make this championship special."
"Congratulations to all the hard-working band students and directors on this amazing accomplishment amid a very trying year," Argyle ISD said in a social media post Tuesday morning. "The Eagle band's tradition of excellence was on display since the summer as they performed at the highest level while battling through the new guidelines and restrictions."
Congratulations to @ArgyleISD, #UILState Conference 4A Marching Band Champion!

? Argyle
? Melissa
? Burnet

Conference 6A takes the field tomorrow beginning at 12 noon. pic.twitter.com/CZhjqel9lQ

— Texas UIL (@uiltexas) December 15, 2020