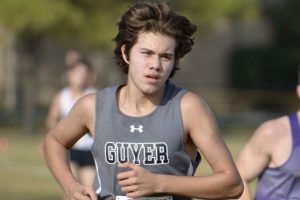 A senior at Guyer High School collapsed while running Thursday morning and was later pronounced deceased, according to the Denton Police Department and Denton ISD.
About 8 a.m. Thursday, Dylan Dorrell was working out with the Guyer cross country team at South Lakes Park, in the 500 block of Hobson Lane, when he collapsed after the workout. Witnesses administered CPR, and Denton paramedics transported him to the hospital while continuing to administer CPR, but the teen was pronounced dead at the hospital.
DPD and Denton ISD are working to make available crisis counselors for those affected by the tragedy.
"We ask that you please keep Dylan's family in your hearts and minds as they struggle with his loss," Guyer Principal Dr. Shaun Perry said in a letter to Guyer families. "Tragedies of this magnitude are difficult to overcome, but the Guyer family has proven to be resilient time and time again and we will support each other in dealing with this unexpected loss."
A GoFundMe account has been set up to help the family with funeral expenses.
Obituary for Dylan Wayne Dorrell
Dylan Wayne Dorrell 17, of Denton passed away early Thursday morning Aug 13th surrounded by his family. He would have been a senior at Guyer High School this school year, graduating with the class of 2021. Dylan was a 4-year member of the Guyer Cross country team, he belonged to several clubs at Guyer and was also very active in his animation classes.
Dylan was an original. He marched to the beat of his own drum and did not care what anybody thought about that. He was so loving and kind. He always had a smile and you would never see him in a bad mood. Every day was a great day for him. It didn't matter what had happened that day, he always had a positive outlook. He was the kind of student that would help anybody in need. He was not the most social of teenagers but if you were his friend, you were his friend for life.
He loved running, drawing, pokemon, Star Wars, Smash Bros and other things that maybe a typical 17 year old wouldn't be interested in, but that was Dylan. He had started building his own light sabers from scratch this past summer and he had even taught some of his friends how to make one as well.
Dylan will be missed by so many. He was a light in this world that we all need. His family loved him so much and there will be an emptiness in their heart forever.
Funeral Services for Dylan will be held on August 22, 2020 at 1 p.m. at the First Baptist Church in Lewisville. Social distancing and masks will be required.