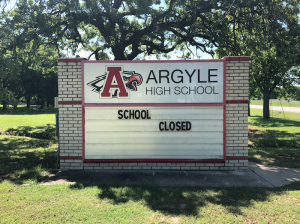 Facing growing backlash from teachers, parents and health officials, Texas Education Agency officials Friday relaxed a previous order that would have given public schools just three weeks from the start of the fall semester to reopen their classrooms for in-person instruction.
School districts will be allowed to delay on-campus instruction for at least four weeks, and ask for waivers to continue remote instruction for up to four additional weeks in areas hard hit by the coronavirus pandemic. Local school boards in areas with a lot of community spread can also delay the start of the school year.
TEA also mandated that school leaders must still offer in-person classes to any students who do not have computers and reliable internet access at home.
"We understand that our families want to make the best decision for their child, and we want to support them with options as we work to provide a safe and healthy learning environment," said Dr. Jamie Wilson, Denton ISD superintendent. "Whether we can start face-to-face or virtually, we need our families to complete the registration process so we can have an accurate picture of what both will look like for next year."
Last week, the Texas Education Agency had released more stringent guidelines requiring all school districts to offer on-campus instruction five days a week for all students who want it, except for a transition period of three weeks at the start of the school year.
Districts that offer 100% virtual instruction must provide devices and WiFi hotspots to students who need them. Students who do not have access to technology must be allowed to learn in school every day, according to the guidelines.
Gov. Greg Abbott and top state officials also announced Friday that they will funnel $200 million of federal stimulus funds to the agency to buy devices, hotspots and routers and distribute them to school districts.
That's on top of a previous promise to reimburse all school districts for up to 75% of their pandemic-related expenses, using money from a federal grant awarded to Abbott's office. The state used a larger $1.29 billion federal stimulus package to bolster its own coffers, instead of providing it to districts on top of their full funding this year.
School districts may also, with permission from the state, choose high schools where students will receive part of their instruction on campus and part remotely at home for the entire school year. Students must learn on-campus for at least 40% of the days in each grading period, usually six or nine weeks long.
Click here for more information.