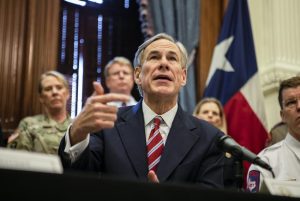 In addition to announcing that Texas schools will remain closed for the rest of the 2019-20 school year, Gov. Greg Abbott on Friday announced some initial steps to re-open parts of the state's economy.
In the next week, the state will lessen restrictions on surgeries, allow all retail stores to provide merchandise pickups and reopen state parks.
More announcements are expected April 27 and sometime in May.
"Because of the efforts by everyone to slow the spread, we're now beginning to see glimmers that the worst of COVID-19 may soon be behind us," Abbott said, noting the number of infections is "beginning to level off" and the death toll, while tragic, has "not come close to the early, dire predictions."
Abbott's news conference came a day after President Donald Trump announced guidelines for states to begin lifting restrictions.
The first phase came in a series of executive orders issued Friday. One order allows for product pickup at retail stores — what Abbott described as "retail-to-go" — that will begin April 24. Outlets will be allowed to bring orders straight to customers' cars in a manner similar to how many restaurants are offering curbside pickup.
Another order, which goes into effect at 11:59 p.m. Tuesday, will allow a limited amount of nonessential surgeries at hospitals, as long as those surgeries don't deplete the hospitals' supplies of personal protective equipment and allow the facilities to keep at least 25% of their capacity available for the treatment of patients with COVID-19, the illness caused by the new coronavirus.
A third order will allow state parks to open Monday. Visitors to parks will be required to wear masks, stay 6 feet away from people who are not in their party, and limit gatherings to five people or fewer.
Additional openings will be announced April 27 "after further input from medical staff," Abbott said.  Previewing that date, Abbott said, "One of the things that we will consider is the elimination of the stay-at-home policy," which he announced late last month and expires April 30.
Click here for more information.