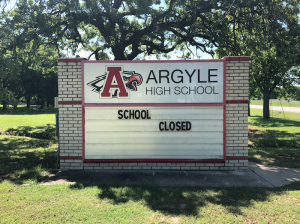 All Texas school classrooms will remain closed for the rest of the 2019-20 school year, Gov. Greg Abbott announced Friday.
Schools have been closed since spring break in mid-March, and they've all transitioned to learn-at-home programs because of the coronavirus pandemic. The Governor issued an executive order a few weeks ago that was going to keep schools closed until early May, but they're now going to be closed through the end of the school year.
The decision, made with the advice of doctors and health officials, came alongside a series of executive orders intended to slowly reopen the state economy, relaxing restrictions on retail businesses, doctor's offices and public parks.
"The team of doctors advising us have determined it would be unsafe to allow students to gather at schools for the foreseeable future," Abbott said.
Until late March, when Abbott ordered schools statewide to shut down until at least May 4, local districts were making their own calls on whether to close.
Texas Education Commissioner Mike Morath will provide school districts more details soon, Abbott said. "[Texas Education Agency] fully supports the governor's actions and continues to work closely with districts across the state to ensure students are getting what they need: meals, dedicated efforts to keep kids feeling safe and connected during these times, and support so students can continue to learn and grow academically," the agency said in a statement.
The LISD school closure has been extended through the end of the 2019-20 school year. Our facilities may be closed, but learning will continue at https://t.co/xgOkrkwXh9. Please read the latest COVID-19 update here: https://t.co/rdGP8uxHpy. #LISDatHome pic.twitter.com/Igl8Xy4C7o

— Lewisville ISD (@LewisvilleISD) April 17, 2020
Denton ISD Superintendent, Dr. Jamie Wilson, talks about the disappointing news we received from the Governor's Office today and the exciting news about commencement.https://t.co/wt30CnClcY

— Denton ISD (@dentonisd) April 18, 2020
Governor Greg Abbott has announced all schools in the state will remain closed for the remainder of the 2019-20 school year. Our remote learning and free student-meal program will continue. For more information, read this letter from our superintendent. https://t.co/ap7RMeCxVM

— Northwest ISD (@NorthwestISD) April 17, 2020