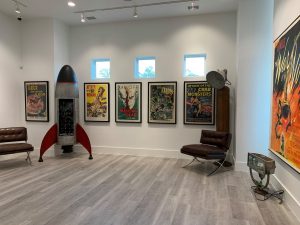 An out-of-this-world pop culture art gallery is preparing to open soon in Flower Mound.
Galactic Gallery is still setting up in a new 5,000-square-foot art gallery that will focus on unique pop culture pieces. The gallery will feature paintings and artwork by Drew Struzan, an artist known for his movie posters in the Harry Potter, Star Wars, Back to the Future, Indiana Jones and many more film series.
"He did 90% of the movie posters in parts of the 70s, 80s and 90s," said Owner Ben Stevens. "He's guy that few have heard of, but he's painted my entire childhood. He's become a really good friend and nothing's been done like this for him."
Stevens founded and owned the Dallas Comic-Con until 2014, and after a couple years off, he decided he wanted to still be in the industry and came up with the idea for Galactic Gallery. In addition to over a thousand pieces of art by Struzan, the gallery will have original art, vintage posters, animation arts and classic illustrations by other artists. There will be a room dedicated to vintage movie posters from the 40s and 50s.
Stevens lives in Copper Canyon and he chose the location, 4140 Bryce Lane, because it was the closest commercial space to his home where he could build a new gallery space. He said he envisions the gallery to eventually host some events, possibly some celebrity signings, but the emphasis will always be on the art.
The gallery will be open by appointment only, and Stevens said he hopes to open about 45 days after it becomes "safe to travel and be in public."
Click here for more information.