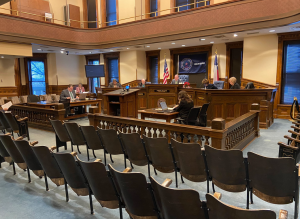 Here is a roundup of changes, cancellations and other announcements made Tuesday by Denton County and towns and cities located in southern Denton County in response to the coronavirus pandemic. This story will be updated throughout the day if new changes are announced.
Argyle
The town of Argyle announced Tuesday afternoon that Town Hall and Municipal Court will be closed to the public, beginning Wednesday through March 31. Residents should conduct town hall and municipal court business online, by email or by phone.
Denton County
The Denton County Commissioners Court approved the disaster declaration that County Judge Andy Eads signed on Friday. In the declaration — which will continue until canceled — the commissioners are recommending the postponement or cancellation of all gatherings over 50 people, and they issued a statement with recommendations for "social distancing."
The Commissioners Court recommends that vulnerable populations (60 years old or older, and people with certain health conditions) limit their outings and only go to essential gatherings. The court recommends that residents minimize exposure at the workplace, cancel non-essential events, increase cleaning of vehicles and avoid healthcare facilities unless it is essential.
Also, the county announced that effective 5 p.m. Tuesday, the Denton County Clerk's Office will temporarily suspend all walk-in services, including recording/vitals at all six locations, except by appointment. Passport services were suspended last week.
The Denton County Tax Office also suspended all in-person services.
Court support is available through electronic filing and email. Court costs are payable online here. Set up payment plans here.
Flower Mound
The Flower Mound Police Department has implemented a temporary response protocol during the pandemic. FMPD is asking the public to use the department's Online Reporting service to report the following types of incidents:
▪️Assault (not in progress)
▪️Barking dog
▪️Credit card abuse
▪️Criminal mischief (vandalism)
▪️Forgery
▪️Hit and run
▪️Identity theft
▪️Lost property
▪️Repossession
▪️Shoplifting (not in progress)
▪️Theft
▪️Traffic concerns
▪️Vacation watch
One can access the online reporting at www.flower-mound.com/pdreports or on the Police Department's webpage at https://www.flower-mound.com/139/Police-Department and click on the "Online Reporting" left-hand link. This online service will limit the number of times officers need to come into direct contact with residents or enter a residents' home.
If residents need assistance utilizing this service or they believe they need to speak with an officer, contact FMPD's non-emergency number at 972-539-0525. A member of the communication team will be able to assist you using the online reporting system or will have an officer contact you by phone to take your report and determine if in-person contact needs to be made.
"Our goal is to proactively protect both our residents and our officers from potentially exposing each other," the department said in a news release. "Reports filed through our online service or over the phone will receive the same professional care, as if they were taken in-person. As always, if you have an emergency, please call 9-1-1."
Officers will continue to respond in-person to calls involving violence, threat to life, and in progress calls such as:
▪️Sexual assaults
▪️Family/domestic disturbances
▪️Any disturbances involving violence or the threat of violence
▪️Thefts, burglaries, and robberies in progress or just occurred or where evidence is present
▪️Major crashes with road blockage or injuries
▪️Missing persons
▪️In progress assaultive offenses or fights
▪️Any injury to a child/elderly/disabled
▪️Intoxicated drivers or people
▪️Welfare concerns
▪️Any in-progress calls that have a potential of risk to life or safety (shots heard, suicidal people, etc.)
▪️Any call that a Police Department supervisor deems appropriate
Also on Tuesday, the town of Flower Mound announced that it has canceled the upcoming Easter Egg Scramble and Underwater Egg Hunt, scheduled for April 4 and 11, due to coronavirus/COVID-19 concerns. Staff is continuing to monitor the situation and will cancel additional events, if needed.
All Flower Mound Police Department events are canceled indefinitely. This includes the Citizens Police Academy, National Prescription Drug Take Back Day event, Child Safety Seat Inspections and Digital Child ID Kit events.
The Flower Mound Fire Department has postponed the upcoming Citizens Fire Academy sessions on March 26 and 28.