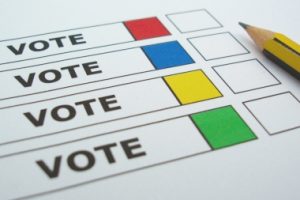 Denton County Sheriff Tracy Murphree was re-elected Tuesday to another four-year term.
Some area elections were decided in Tuesday's Primary elections, while most will be ultimately decided in November.
According to unofficial election results from the Denton County Elections Office, Murphree easily defeated his two opponents. No Democrats filed to run for the office, so Murphree will serve another term, effective Jan. 1, 2021.
In other races, U.S. Rep. Michael Burgess coasted to the Republican nomination as he seeks re-election, getting 73% of the vote despite being challenged by three Republican opponents. Burgess will face Democrat Carol Iannuzzi in the November General Election.
Lewisville ISD Trustee Kronda Thimesch secured the Republican nomination to challenge Incumbent Democrat Michelle Beckley for State Rep. District 65.
Democrat Shadi Zitoon this November will challenge Incumbent Republican State Senator Jane Nelson of Flower Mound, who ran unopposed in the primary.
Republican Dan Rochelle will be named Precinct 3 Constable after defeating Jeri Rodriguez, and Danny Fletcher soundly defeated incumbent Tim Burch for Constable in Precinct 4. Burch's office was mired by a felony charge against his chief deputy, Barry Minoff, who is accused of gambling with $300,000 from a constables' association that Burch presided over.
A runoff is expected for the 431st District Judge race, as Jim Johnson did not reach the 50% threshold. Voters will elect him or Derbha Jones in a Primary Runoff Election on May 26.
Here are the unofficial voting results, with all precincts reporting, as of late Tuesday night:
U.S. Representative District 26
Michael Burgess – R, incumbent: 38,217 votes, 73.55%
Michael Armstrong — R: 4,778 votes, 7.47%
Jason Mrochek — R: 4,465 votes, 6.98%
Jack Wyman — R: 5,861 votes, 11.45%
Carol Iannuzzi — D: 30,851 votes, 55.35%
Neil Durrance — D: 9,278 votes, 16.65%
Mat Pruneda — D: 15,605 votes, 28%
Texas Senator District 12
Jane Nelson — R, incumbent: As the only Republican candidate, Nelson will face the winner of the Democratic Primary in November.
Shadi Zitoon — D: 29,177 votes, 57.49%
Randy Daniels — D: 24,065 votes, 42.51%
Texas Representative District 65
Kronda Thimesch — R: 4,438 votes, 57.79%
Nancy Cline — R: 3,242 votes, 42.21%
Michelle Beckley – D, incumbent: 8,443 votes, 66.69%
Paige Dixon — D: 4,217 votes, 33.31%
District Judge, 431st Judicial District
Cannon Cain — R: 5,254 votes, 9.66%
Jim Johnson — R: 23,143 votes, 42.55%
Derbha Jones — R: 13,769 votes, 25.31%
George Mitcham — R: 12,229 votes, 22.48%
Diana Weitzel — D: As the only Democratic candidate, Weitzel will face the winner of the Republican Primary Runoff in November.
Denton County Sheriff
Tracy Murphree — R, incumbent: 36,107 votes, 62.31%
Dugan Broomfield — R: 6,915 votes, 11.93%
Bryan Wilkinson — R: 14,926 votes, 25.76%
Denton County Constable, Precinct 3
Dan Rochelle — R: 3,706 votes, 58.45%
Jeri Rodriguez — R: 2,635, 41.55%
Denton County Constable, Precinct 4
Danny Fletcher — R: 8,976 votes, 64.16%
Timothy Wayne Burch — R, incumbent: 5,014 votes, 35.84%