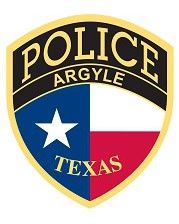 The following is a summary of incident reports made to the Argyle Police Department as compiled by the staff of The CTG:
On Sept. 27 at 8:41 a.m., a woman on Joyce Lane reported that a man driving a van came up alongside her house and took a picture of the bedroom window, then backed down the street.
On Oct. 4 at 1:35 p.m., a caller said they saw a young man sitting on a duffel bag at Argyle High School and "it looked awkward."
On Oct. 4 at 6:38 p.m., someone reported a noise complaint on Country Lakes Boulevard. The responding officer "did not observe noise that most people would consider unreasonable," though children could be heard playing in the backyard of a home. The resident at that home told the officer that a neighbor complains every time the kids play. No action was taken.
On Oct. 9 at 10:30 a.m., a resident on Skyline Drive reported a suspicious vehicle. It turned out to be contractors who were given the wrong address.
On Oct. 10 at 8:30 p.m., a caller reported a crash on Hwy 377 near FM 407. The other vehicle involved, a black SUV, took off before police arrived.
On Oct. 15 at 11:37 a.m., a caller reported a theft of jewelry that occurred on the soccer fields at Liberty Christian School.
On Oct. 16 at 4:45 p.m., a man reported that he was driving behind another vehicle on Crawford Road at John Paine Road toward Hwy 377 and the driver kept brake-checking him. At the red light at Hwy 377, the other driver stopped in the roadway to block the caller, got out and hit the caller's window. The caller immediately drove to the Argyle police station.
On Oct. 17 at 5:40 a.m., a caller on I-35W reported that the vehicle in front of them was tapping the brakes in a sequence over and over, three short taps and then three long ones, which is Morse code for SOS, a distress signal.
On Oct. 20 at 6:58 a.m., an officer responded to a car that was pulled over on I-35W. The motorist told the officer that he ran out of gas and "would just wait on the side of the road until his girl got off work in three hours."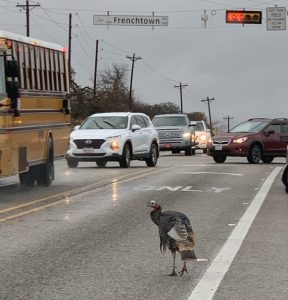 On Oct. 23 at 8:09 a.m., a caller reported a turkey in the southbound lane of Hwy 377 just south of FM 407 that was causing traffic to back up. The responding officer could not find "the road blockage bandit."
On Oct. 24 at 4:07 p.m., a woman called from her home on Dallas Street because a man was knocking on her door and yelling. It turned out the man was a neighbor who was angry that she ran a stop sign in front of his house and wanted to confront her about it.
On Oct. 31 at 10:04 a.m., a woman was driving south on I-35W when debris from a tractor-trailer hit her vehicle and cracked her windshield. A DPS trooper stopped the truck and found that it was ice coming off the top of the truck's cab.
On Nov. 2 at 9:30 p.m., a resident on Stonecrest Road reported a tow truck was sitting on her property without her permission. She said the tow truck drivers were "sketchy" and she didn't want them near her family.
On Nov. 16 at 1:53 p.m., residents on Forest Trail reported that their "very expensive purebred Collie" was stolen from outside their house by people in a white hatchback car. About 20 minutes later, the dog was returned.
On Nov. 19 at 10:44 a.m., a resident on Woodland Trail reported two men parked at the end of her driveway in a pickup. The pickup then slowly drove away. An officer found that the men in the pickup were lawn care service workers who realized they parked in front of the wrong house.
On Nov. 19 at 12:16 p.m., someone called because they saw a woman with a small child on the train tracks in the 300 block of North Hwy 377. The responding officer found they had already gotten off the tracks and they were just "killing time before an appointment."
On Nov. 21 at 11:31 a.m., a driver reported that someone in a white pickup was "harvesting the remains of a dead deer on the side of the road." By the time an officer arrived, the vehicle had left and the animal had been harvested.
Between Oct. 24 and Nov. 22, there were five different calls that a turkey was causing traffic delays on Hwy 377. One caller said the turkey was "chasing vehicles." There were also several reports of drivers hitting deer in the road.