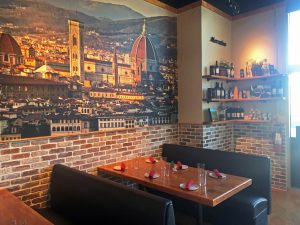 The town of Flower Mound is welcoming more than a dozen new businesses that have opened or are coming soon to town, including several restaurants, professional offices and retail stores.
The town issued certificates of occupancy from Oct. 15 to Nov. 18 for the following businesses, according to the town's website:
Giro Pizza, 3711 Justin Road, Suite 110, a new Italian restaurant concept
Vape & Leaf, 2021 Justin Road, Suite 230, selling vape juices and e-cigarette devices and parts
Sandhauling, 700 Parker Square, Suite 115, a trucking transportation company
Excel Massage, 1901 Long Prairie Road, Suite 120, offering facials and reflexology services
Deka Lash, 1050 Flower Mound Road, Suite 145, offering lash extension services
H Foot Spa, 4130 Justin Road, Suite 112, offering a variety of massage services from foot reflexology to full-body massages
Dallas Home Health & Hospice, 3020 Broadmoor  Lane, a home health hospice business that meets their clients at their homes
Govind Sharvas, LLC, 4491 Long Prairie Road, Suite 700, offering consulting and counseling services
Bosco Auto Group, 1401 Justin Road, the first car dealership in Flower Mound with 300 parking spaces and a 14-bay service center
Rustico Grill, 3701 Justin Road, an intimate restaurant only open for dinner serving wood-fired pizzas, artisan meats, fresh seafood, specialty chicken dishes, a variety of cocktails and an extensive wine list
Chillicious Thai (coming soon), 3651 Justin Road, Suite 100, a Thai restaurant offering soups, salads, Thai curries, fried rices, noodles and more. Opening in January.
CBD Plus USA (coming soon), 4151 Cross Timbers Road, Suite 110, will offer a variety of CBD products
Surgical Care of North Texas, 4300 Windsor Centre Trail, Suite 400, offering customized treatment plans using the least-invasive surgical options