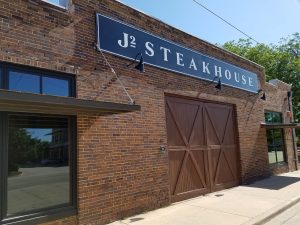 J2 Steakhouse in Lewisville won an award in the 2019 Texas Downtown Association President's Awards Program.
Old Town Lewisville's Main and Mill Business Association nominated J2 Steakhouse for best renovation/rehabilitation/restoration in the association's design category for owners Jim and Kerry Murray's renovation of the Lewisville Feed Mill. The mill was the longest operated businesses in the city's history, owned and operated by the same family from 1886 to 2010, according to a news release from the TDA. The Murrays, owners of the Prairie House restaurant outside Denton, purchased the building in 2016 to restore it, maintain its historic value and original materials, and open a high-end steakhouse. After reportedly spending $1.3 million in to restore it, the Murrays opened J2 Steakhouse in May 2018.
J2 was named the winner of the Best Renovation/ Rehabilitation/Restoration Award (population 50,000+) at the Awards Gala held in conjunction with the 2019 Texas Downtown Conference in Georgetown on Oct. 30.
"It is a great win for our community and would not have happened without the continued support of our Old Town district," Jim Murray said.
The five-star restaurant serves 175 seats dry-aged beef that was aged in-house in a farm-to-table style dining experience.
J2's winning category recognizes excellence in rehabilitation of the interior or exterior of an existing building, according to a TDA news release. Nearly 120 entries were submitted in 11 different categories from communities across the state of Texas. Due to the number of entries, the entries were divided up into two categories – Design and Achievement – with separate judging panels for each group.