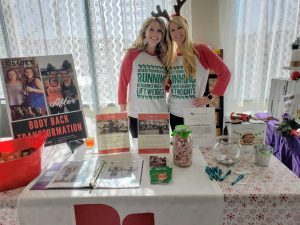 The Fourth Annual Flower Mound Women in Business Holiday Spectacular, billed as Flower Mound's biggest Christmas shopping event, will be held on Saturday.
Local realtor Christi Beca founded the FMWIB organization four years ago, and an event that supported local business and charity "was always in the works." Beca said the first holiday shopping event was very small, but "we've come a long way and learned a lot."
The event will be held on Saturday, Dec. 7 from 10 a.m. to 3 p.m. at the Courtyard hotel on the River Walk, 4330 Courtyard Way in Flower Mound. There will be more than 60 local vendors (including title sponsor Law Offices of Christopher Sullivan), a DJ, arts and crafts, free food and refreshments, giveaways and from noon to 2 p.m., a live Santa with free pictures.
Everyone who comes to the event is asked top bring an unwrapped toy to donate to Toys for Tots, an organization that Beca said "is near and dear to my heart."
"Years ago, I went through a divorce and we hit on hard financial times," Beca said. "They were there for us when I needed help, and from that moment forward I wanted to give back like they gave to me."
Click here for more information.
Beca said the FMWIB group is planning a big event in the spring at Heritage Park. It will be similar to Independence Fest with live music and well over 100 vendors, Beca said, and will support a charity.