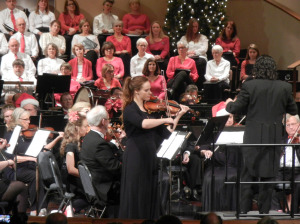 The Flower Mound Symphony Orchestra, Voices of Flower Mound and the Trietsch Memorial United Methodist Church Chancel Choir are preparing for their annual joint venture Christmas Concert later this month.
The Christmas concerts are usually the most popular events for the Voices of Flower Mound. The local choirs and orchestra will perform holiday favorites for the Christmas Concert, scheduled for 7 p.m. Dec. 14 and 2:30 p.m. Dec. 15 at Trietsch United Methodist Church, 6101 Morriss Road.
Tickets are $10 each, and kids 12 and under can enter free. There's a $40 maximum charge per family. Tickets will be available with cash and check payment at the door, but if you want to purchase them in advance or with a credit card or PayPal, click here.