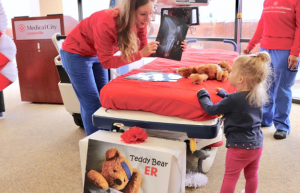 Medical City Lewisville is hosting its annual Teddy Bear ER Clinic on Saturday.
At the free Teddy Bear Clinic, kids will learn how to "treat" their teddy bears, according to a news release from the hospital.
"Through the use of play, each child can use their imagination to describe mock injuries or illnesses, and go through various procedures done in the ER on their teddy bears," the news release said.
Kids can bring their own teddy bear or stuffed animal, and the first 100 attendees will receive a Medical City teddy bear.
The event is scheduled for 10 a.m. to noon on Saturday, Dec. 7. Click here for more information and to RSVP, or RSVP to [email protected] The number of spots are limited.