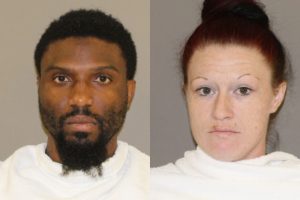 Two people were arrested in Double Oak last week on warrants, and one tried to run away but was quickly caught by police.
On Nov. 23, a Double Oak police officer saw a white sedan driving on FM 407 commit a traffic violation, according to a news release from the Double Oak Police Department. The driver pulled into the parking lot in front of the Casa Mia restaurant in Lantana. As soon as the car came to a stop, the passenger got out and ran away.
The passenger — later identified as 32-year-old Travis Reed of Fort Lauderdale, Florida — ran across FM 407 into the Kroger parking lot. Bartonville police officers responded and quickly found him near the Firestone shop, and they took Reed into custody without incident, according to the Bartonville Police Department.
The driver of the sedan — 27-year-old Aimee Premeau of Dallas — was found to have a warrant out of Dallas County for possession of a controlled substance, according to the news release. Reed was wanted out of Florida for failure to appear on an evading police charge. Both were arrested and booked into Denton County Jail.
Police are still investigating further alleged criminal activity by Reed and Premeau, according to DOPD.