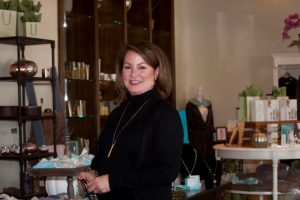 Yvonne Stewart is not your typical spa owner. She has never personally given a client a massage, manicure or pedicure.
However, three decades in corporate management have taught her how to hire people who can. It is that combination that has made Woodhouse Day Spa in The Shops at Highland Village successful in the 15-months since opening in July 2018.
"To build and have a spa in my community– where I've been for over 20 years– is exactly what I needed," said the longtime Flower Mound resident, who just recently moved to Lantana. "To serve the community this way; you don't come here because you have to, you come here because you need to and want to.
"My staff members are like artists. They use their hands and their skills. I can't step in their shoes and do their jobs, ever. I love getting massages and facials and pedicures; and, that's exactly what we do. We take care of wellness."
A friend who had been with Woodhouse for 15 years– including a number of years in Stewart's native San Antonio– convinced Stewart to take the plunge, after she'd worked for Bath and Body Works and Ulta Beauty.
"This spa was paid for with my Bath and Body 401K," said Stewart, who is grooming her daughter, Dusty Kavanagh, to take over when Stewart eventually retires. "When you are with somebody for 28 years you build up a nice little piggy bank; and not wanting to move around so much and travel."
While training at the Woodhouse corporate headquarters in Victoria, Texas, Stewart quickly became impressed with everything the company offered its franchisees. She said Woodhouse is perfect for people experiencing stress or muscle issues or looking to celebrate a special occasion.
It also has allowed her to belong to local business organizations, something she couldn't do when in the corporate world.
Woodhouse is not a typical "fast food" spa, where a person gets one treatment and leaves. It's a place where clients come to decompress with packages starting with time to unwind in the Quiet Room before enjoying a combination of massages, manicures, pedicures, hydra-facials, sleep treatments, wraps, waxings and more.