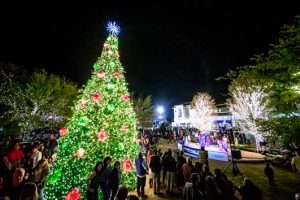 Lakeside DFW in south Flower Mound will host its Third Annual Lakeside Holiday Event from 5-9 p.m. on Tuesday, December 3rd.
The Candyland-themed event will include free horse drawn carriages through the Lakeside DFW community, lighting of Lakeside's 30-foot Christmas tree, photos with Santa, and the final holiday-infused Lakeside Music Series concert of the year, according to a news release from Lakeside developer Realty Capital Management.
"Jon Christopher Davis, a local singer song-writer, will return to perform at the Lakeside Holiday Event stage for the third year in a row," said Michael Clay, Executive Director of the Texas Music Project. "He will take the stage after the lighting of the 30-foot Christmas tree and Suzy Morgan will perform at the beginning of the event. They are both very excited to perform for the bustling crowds that the Lakeside Holiday Event attracts."
The Lakeside shops and restaurants will be offering holiday treats and family-fun activities, such as face painting, balloon artists, letters to Santa and digital caricatures. The Med Spa of Flower Mound will be hosting photos with Elsa. Denton County Friends of the Family will be onsite accepting hat, coat and glove donations. Free valet service will be offered near Craft Pies Pizza Co.
"We are excited to kick off the holiday season as a community," said Rebecca Everitt, Development Partner for Realty Capital Management.
The event will be held at 2400 Lakeside Parkway in Flower Mound.