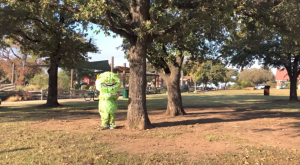 A friendly creature has hidden boxes filled with "treasure" at some of Flower Mound's parks.
As part of Arts Month, Keep Flower Mound Beautiful's friendly creature, "the Flower Moundster," is hiding the treasure boxes at local parks and challenging local residents to find one of them and use their imagination to create a unique piece of art using the items in the box, according to a news release from the town of Flower Mound.
If you find a treasure box, email [email protected]. Once you have created a masterpiece, take a photo with it and send it to the same email. Participants will receive a prize and have their art work displayed at the Flower Mound Public Library.