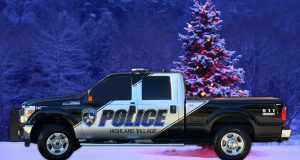 The Highland Village Police Department's annual Stuff-A-Cruiser toy and food drive will begin this weekend.
Each holiday season, the department collects donations of toys and food for local students and families in need. You can drop off donations from 10 a.m. to 4 p.m. at Walmart, 3060 Justin Road, and Walgreens, 2360 Justin Road, on the following dates: Nov. 23-24, Nov. 30 – Dec. 1, Dec. 7-8 and Dec. 14-15.
You can also drop off toy donations at the following locations at any time through Dec. 15: The Highland Village Police Department, Highland Village Fire Department, Walmart, Walgreens, Highland Village Elementary School, Heritage Elementary, McAuliffe Elementary, Briarhill Middle School, Dr. Gronberg Orthodontics and Elevation Church.